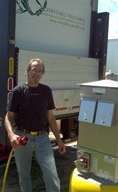 This note comes by way of Cascade Sierra Solutions, the Oregon-based nonprofit connecting owner-operators and fleets to financing for fuel-efficiency-boosting solutions and otherwise promoting "green trucking" to reduce diesel emissions in various ways nationwide.
The Veritable Vegetable fleet, a distributor of organic produce operating several Western states, has made a donation to CSS the organization trumpeted recently at the opening of electrified shorepower pedestals at the Flying J in Lodi, Calif., where the company's Tom Howard (pictured) was the first to plug in.
"Our business is rooted in high-integrity relationships, quality produce, minimal environmental impact and active involvement in the community," says Chris Adams, VV's trucking manager. "CSS shares our commitment to reducing the environmental impact of the miles we drive. We want every part of our company to contribute positively–that is why we keep our trucks clean and invest in green technologies. We believe CSS can assist other companies adopt similar technologies."
The company was recently highlighted — named "Green Fleet of the Year" — in Fleet Owner magazine for some of their efficiency-boosting investments. You can read more about them here.
What green technologies have you invested in?