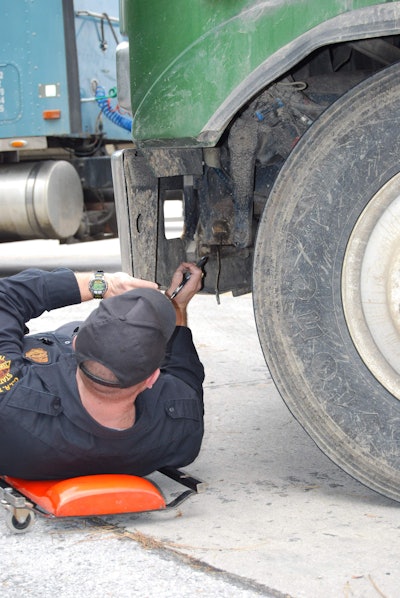 The MCSAC meetings early this week in Alexandria, Va., came on the heels of FMCSA's announcements of a suite of changes to the CSA program last week Friday (find my story on those here). MCSAC's task Monday relative to CSA was to share areas of concern, things about the program that needed addressing as soon as possible. The top three concerns will be taken up by the first meeting of the newly established CSA Subcommittee (tentative for mid-October), and I've detailed them (including problems associated with the DataQs process for disputing violations) in this story.
Driver rating
Among other topics of discussion, Rob Abbott of ATA urged study of whether making the Driver Safety Measurement System, which I've written about here and here (among other places), a publicly available tool "would ultimately improve safety," as he put it, also asking FMCSA Associate Administrator for Enforcement Bill Quade, "Are you considering a Driver Safety Rating irrespective of the SMS rankings?"
Not a lot of news here, but given that this sort of system ranks individual drivers against each other with a numbered look and feel somewhat similar to today's public CSA SMS for carriers, I think it's important to note what Quade said in response: "If we had all the resources in the world we would go down this path. [The universe of drivers is] a big group…, and we have our hands full with our current portfolio."
As I'd written previously — and which Quade also mentioned — however, FMCSA has already to some extent pursued expanded authority to "go down this path" of public driver rating, particularly prior to the most recent highway bill. Congress, ultimately, didn't take up the challenge.
Crash fault
A way to account for crash fault in the points system was high in the minds particularly of the trucking representatives among MCSAC committee members, though given FMCSA has a scheduled yearlong effort aimed at researching potential solutions to the problem current under way it was somewhat muted in the overall discussion.
Acknowledging the situation as it is today, noted OOIDA's Todd Spencer, "One instance we have with one of our members" involves an accident that was not the trucker's fault and "involved seven fatalities — other people ran into him." Under CSA, whether the crash was his fault or not, it figures into the crash weighting as a fatality event.
As Quade acknowledged, "as you discuss things, keep in mind what is feasible in the real world today, not ideal places." While he praised movement toward the ideal, today in the Motor Carrier Management and Information System that contains the data on which CSA is based "I don't know what crashes are at fault — we don't know it in any systematic way."
Noted Henry Jasny of Advocates for Highway and Auto Safety, "And it's hard to get to unless you have a full NTSB investigation."
Said Spencer, echoing Rob Abbott of the ATA in other comments on determining whether CSA's goal of reducing crashes is really being furthered by the system, "If the mission of CSA is to actually identify and address which are the players in trucking that are likely to cause crashes, I think it obscures that. We have to start by who now is having at-fault crashes and work back through that. If the bottom line is anything other than focusing on those crashes where truckers themselves or motor coach operators actually have caused crashes, the mission can never be accomplished."
Other issues raised:
CSA misinformation: "The general perception of CSA throughout most of the driver community is a lot of misunderstandings," said Spencer. FMCSA has "done considerable things with the radio stations and such, and you reach a lot of people, but probably nowhere near a majority…. Is CSA reaching the right stakeholders now?"
Educating brokers, shippers: "Send a letter to every shipper and emphasize it," said Clark Freight Lines' Danny Schnautz. "That might be sort of an impossible task, but [with brokers and some shippers, CSA rankings are] used as the holy grail — the message isn't getting through that's it's just an indicator."
Credit for screenings: If a carrier's truck is looked over by an officer informally and let go, or if a Wireless Roadside Inspection gives a truck a pass, "how much credit should [the carrier] get?" asked Bill Dofflemeyer of the Maryland State Police. "They should get some credit toward a CSA score — not like a Level 1 or Level 2 inspection, but some credit."
Unformity state to state: FMCSA, said Bob Petrancosta of Con-way Freight, should "make sure that we have an understanding of whether there is a consistency of enforcement across states… Is there uniformity in the targeting and the actual inspection that takes place? Is there consistency in that broad spectrum of enforcement?"
It may well be a long time before a lot of these questions get answered, but given the approach the agency has taken to CSA as an ongoing work in progress, feel free to hold their feet to the fire to get preferred things done. Like I said, watch the MCSAC site for posted news of the mid-October CSA subcommittee meeting.