Sounds absurd, I know, but two pieces of news this week have sort of begged the question.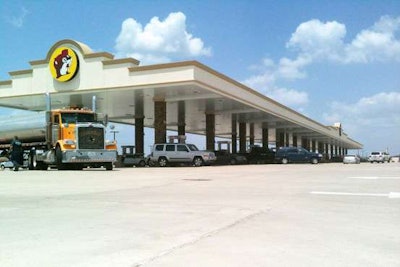 1. The first, from the Wall Street Journal on a new mega-convenience store between Austin and San Antonio in New Braunfels, details a roadside spot that seems tailor made for the state — much hay is made of 80-some-odd toilets and other outsize features there, including 60 fuel pumps and a farmer's market on-site.
So much for getting fresh produce on the road. Though the stop would seem tailor made for truckers looking for a spacious rest, too, there's a problem: contrary to conclusions you may draw from the truck in the above thumbnail of a photo by WSJ writer Miguel Bustillo (click through it for the full story), no big rigs are allowed at Buc-ee's rest stop unless they're making deliveries.
"18-wheelers are barred because [owner Arch 'Beaver' Aplin] says they gum up parking-lot traffic," Bustillo writes.
Buc-ee's is located off I-35 at Farm-to-Market Road 306.
2. The second item you may have seen right here on OverdriveOnline.com. Bill Graves at the American Trucking Association is saying some things are indeed just too big — even for Texas. Graves is urging Texas to reconsider its new 85 mph speed limit on a "privately managed stretch of State Highway 130," also between Austin and San Antone.
Sure you know well what's on Graves' mind (four-wheeler blizzard, anyone?): Not many a hauler I know out there is going to go that speed, after all, given fuel well upward of $4/gal.
Do you think it may set a precedent other states are likely to follow?
Click through the sign below for the story: