Well, almost. Expedited owner-operator Phil Madsen, no stranger to these halls, just missed an event out in Nevada early this month that, well, as he put it, quoting the event website:
On the Nugget web site, I read, "Nevada is a swing state in an election year, so we're putting the 'pork' in politics at the Best in the West Nugget Rib Cook-Off at John Ascuaga's Nugget!  In a completely unscientific method of predicting America's next Commander in Chief, pigs dressed to represent 'Obama' and 'Romney' will race down Victorian Avenue, oinking for your vote.  John Ascuaga's Nugget has invited Nevada politicians to attend and cheer on their party's oinker."
You can read his full post here, a particularly interesting part of it being just how he recorded his and wife Diane's day out at the Nugget Rib Cook-Off, via brief phone messages left from his phone on Diane's. Here's his provided transcript:
bright, hot, sunny day; crowded streets, lots and lots of people; guy in purple pants dancing alone at band stage; colorful stands and people; pigs on spits; smoke filled air in street from rib booths; large rib booths with facades three stories tall listing their names, slogans and lists of rib contests won; Texas Taters, power drill used to make them, two women who asked us about them; immodest couple's near sex show in park; two women with big hair, gray; Nugget casino, tunnel under freeway; no camera in gift shop; classic layout, casino packed with people, nearly every machine busy, low ceilings, dark rooms, endless floor space, cigarette and cigar smoke drove us out; huge armadillo blow-up figure; massive onion rings made from onions almost as big as your head; shaved ice servings shaped as and big as a hat, put on your own flavors at separate dispenser stand; fire roasted corn $4.00 an ear; pulled pork sandwiches $7.00 to 9.00 each; styrofoam, palm-size dish of macaroni and cheese for $5.00; numerous tall trophies on display at rib places; flags atop the rib booth facades; kids playing in fountain; "Praise the Lard"…  (and it continues)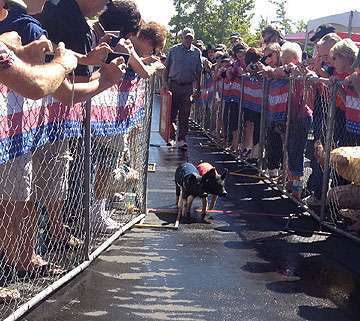 Madsen's no doubt among the more acute/astute observers in the trucking blogosphere, and this proves it — if we needed further proof. Keep track of his blog.
And oh yeah, perhaps in a reflection of national polling numbers, but not our own, Obama won by a snout. Click through the thumbnail image here for some local TV coverage of the pig race.