Ferro on the hot seat

Last week Thursday, the U.S. House of Representatives' transportation and infrastructure committee took testimony from FMCSA Administrator Anne Ferro, who defended the agency's Compliance, Safety, Accountability program's efficacy as a carrier safety monitoring tool against accusations of essential unfairness, inaccuracy and more. (Find our own Jill Dunn's report from the proceedings here.)
I've covered the debate within the industry about CSA's problems numerous times, but this instance was striking in its inclusion of numerous carrier representatives in addition to the administrator herself facing off against members of the House committee, who posed fairly good questions about the program.
Clearly, they're hearing from their constituents.
If you haven't as yet, it's worth watching or listening in on the video replay of the webcast, available via this page.
The Truth About Trucking Live online radio show took up the subject of CSA last week Thursday — getting into a central question after their primary topic that, as owner-operator William McKelvie put it, went something like this: "Is CSA really working [to increase safety] or is it as the industry touts it, a witchhunt against drivers?" Tune in to a streamed rebroadcast on-demand here.
Cookeville, Tenn., truck show in two weeks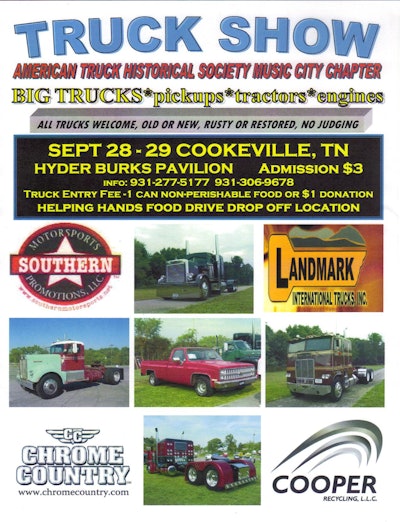 As I shared back in July, the folks with the American Truck Historical Society's Music City Chapter will host their annual truck show in Cookeville, Tenn., later this month: September 28 and 29 at the Hyder Burks Pavilion there. If you're running I-40 that Friday and Saturday, stop in.
The Music City Chapter's shows, as any regular reader here will know, can be a wellspring of just awesome custom-restored rigs of all manner of styles.
Don't believe me? Find some evidence here, here and here. And how about the old cabover in the brief vid below. The restore work on Bobby Whittenburg's Chevy Titan 90 seem to have multiplied every time I see it. Enjoy:
[youtube YOWxiiQxbuk nolink]
This past Saturday, the national ATHS Route 66 convoy, which began with a show in Morris, Ill., on Sept. 6, wrapped in San Bernardino, Calif. You can check out a huge gallery of photos from the run and the shows on this page.
Hold phone, will disqualify
Finally, administrative officials in the Scotland have upped the ante on anti-cellphone laws already on the books for commercial drivers there. The move, to give Scotland's Traffic Commissioner the ability to cherry-pick phone-use violators for commercial license suspension, could be considered somewhat ominous, given the United States' government's (and trucking industry's) occasional inclination to follow their European brethren on regs, penalties and technology.