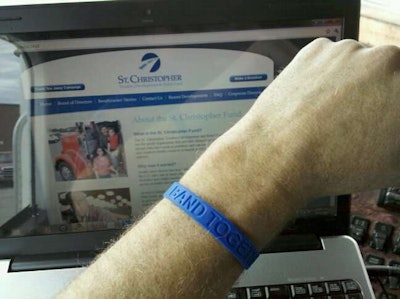 How many of you have one of these wristbands? Since I originally shared this picture — taken by owner-operator Scott Grenerth — back in 2010, TravelCenters of America has continued its annual "Band Together" campaign to collect donations to the St. Christopher Truckers Development and Relief Fund, geared toward helping truckers defray the cost of emergency and other medical care, offering up the wristband to customers for a $1 donation to the fund.
In its third year, TA Petro reported early in the week, the campaign achieved some pretty amazing results, moving a total of 255,000 wristbands over the course of a month, ending mid-September. All told, customers and TA Petro employees donated a grand total of $278,207.09 to SCF. All told, reps said, the campaign at the end of its third year has now generated $750,000 for the fund.
Nice when good intentions deliver good results, wouldn't you say?

Speaking of which, if you read back through the piece from 2010 linked above, and here, you'll note my mention of Grenerth's "TruckerCycler" initiative to provide an online forum for sharing information about biking opportunities near accessible truck parking around the nation. The effort has since become the RideandRoll.me site and attendant plotted Google map with numerous ride locations centered heavily east of the Mississippi. Cyclers, if you've yet to check it out, do so. The more people use it and give input to the drivers who created it, the better a resource the map will ultimately be. You can also find their Facebook group here.