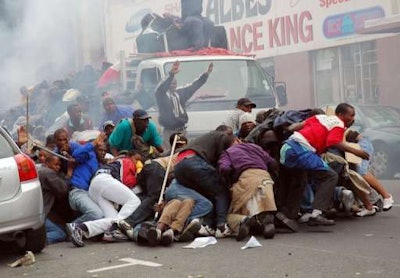 Back early last year as unrest in North Africa was at a peak, you may recall that I posted this brief interview with South African transportation broker and former driver Robert Olivier about trucking in South Africa and a then ongoing strike, which had turned violent with no small number of striking drivers taking out fury on their non-striking brethren with sticks, stones and whatever other weapons happened to be handy. Olivier was disgusted, commenting on the debacle this way:
There has been a level of camaraderie amongst truckers, considering the racial divide and language barriers. Remember, we have 11 official languages here. Bloody ridiculous, if you ask me. If I ever returned to the road, I would keep to myself and only mix with people I already knew. I will never have any respect for the average trucker ever again after what has gone down in the past week.
I imagine Olivier is even more disgusted after the past weeks' worth of attacks on working drivers by haulers on strike yet again. A tentative deal has reportedly been reached for a round of pay increases in the regulated industry there, but this round of bloodshed seems to have dwarfed the previous one. Here's South African News24 columnist Chris Moerdyk, who in a column whose tone is well suggested by its title — "Striking back at the mothertrucking strikers" — goes as far as to call the violence indisputable evidence of the virtual nonexistence of civil society in the country:
I cannot get my mind off Gary Stewart, sitting in a truck, minding his own business when some moron throws a brick through the window. He died.
I cannot get my mind off another, as yet unidentified truck driver who was pulled from his vehicle in Manenberg on the Cape Flats and set alight by another moron. He died.
I keep asking myself what I would do if my son or brother were killed by a moron.
Our political discourse in this country is a mite partisan and occasionally nasty, for sure, but how's that for rude? It wasn't so long ago that the passion of economic wars spilled over on U.S. highways, an historical fact memorialized of a fashion in Fred Afflerbach's "Roll On" novel. Though the comparison is far from direct, reading heated commentary occasionally on our site and quite often elsewhere, when commenters resort to insults and name-calling in lieu of making a salient point, I'm reminded how very slippery the cliff's edge into reality can be.
In any case, let's hope things get better for the truckers in South Africa — and, of course, here in the good old U – S – of – A. Any encouraging economic signs out there?