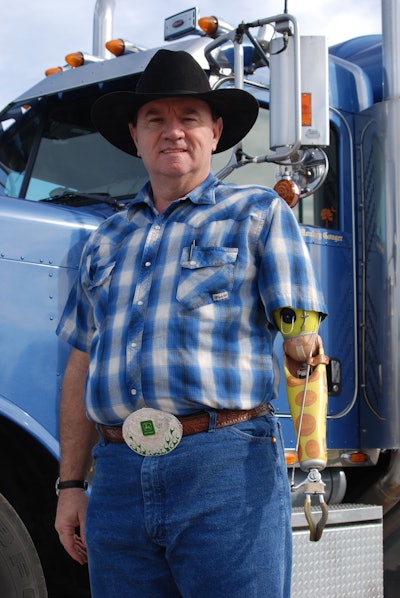 Progressive Commercial's ongoing "Real Life Trucking Hero" contest will at the end of hte month award $15,000 to a winning driver/owner-operator for lifetime achievement in the industry. Up for vote this month are several monthly winners for the grand prize, all-well-deserving operators, and among them is a driver regular readers will be familiar with. Owner-operator Jimmy Ardis, pictured, known as the "Monkey Gouger" over the CB and among the many the gregarious South Carolina resident can count as a friend, was honored by the Owner-Operator Independent Drivers Association for his lifetime trucking achievement at MATS this year, and I caught up with him briefly at GATS in August.
Ardis wore a big hat and a big smile outside of the convention center's attendant hotel, where he held court with other drivers swapping tales and talking sense.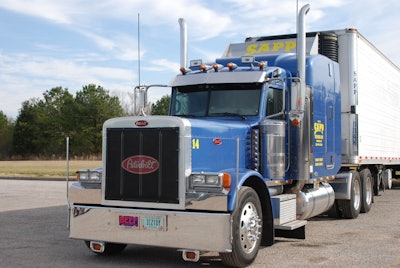 Ardis is a great man, not least for his trailblazing efforts to secure an exemption for his missing left arm (which he lost at a young age to cancer) to get his commercial license back in the early 1980s, and all of which you can read about here (including a gallery of photos of his pristine Peterbilt, also pictued here).
In any case, I'm wishing him luck. You can check out the other contenders' stories and vote for your favorite via the "Winners' Gallery" tab on this page at the Progressive site.