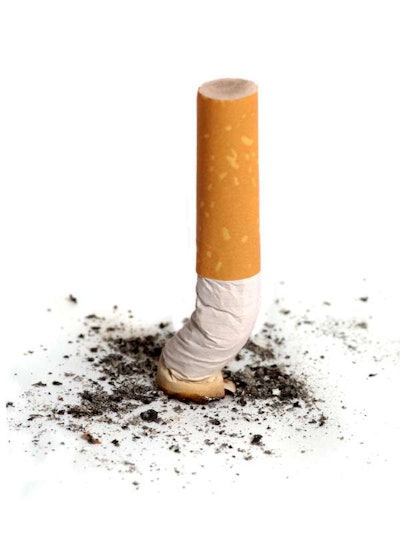 It's often been said about giving up cigarettes that the physical addiction is the easiest part. As with many habits, it's the psychological bonds between you and their practice, or use of the offending substance in this case, that are the most dastardly difficult to break.
I know, for Lord's sake. I've probably quit smoking 20 different times in my adult life, only to pick it back up after days, weeks, months, usually for no better reason than a simple feeling of loss, of something not being there that was supposed to be, a nagging tension at the base of my neck or in my jaw or shoulders or knees and a growing certainty that, you know what, the only the thing will fix that is … Bam, I'm back at the C-Store counter with a $5 bill at the ready.
The longest successful break I ever had came after utilizing something my Pop had tried to good effect that, in principal part, was an attempt at behavior modification. The program, created by a Frenchman to help himself quit, involved some brief but extreme dietary changes but, mostly importantly I think, came with audio of the most heinous variety that, once you started the program, you subjected yourself to it while, and only while, you were smoking, day in day out. The French are absolute insane, of course!
But crazy like the fox. It worked for me — for close to a year. Successful completers of this program could smoke as much as they wanted through the first couple weeks or so, but by smoking only while hearing the audio in headphones, I created in my neural pathways a strong association between smoking and this godawful screeching, groaning sound (something like what you'd imagine permanent submersion in a neverending lightning strike, or being plugged into the electrical grid, to sound like). A few weeks into the program, and I was done with cigarettes for the time being. (I forget why I restarted, but I think that time I think I just got lazy out with smoking friends or something and reignited the old triggers — until I started back, they'd been just, well, gone.)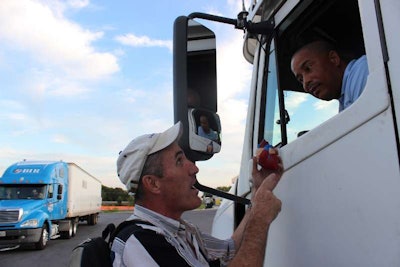 The reason I bring it all up is that a paramedic and hypnotist based in Florida today has gone into overdrive (no pun intended) promoting a series of "self-hypnosis" stop-smoking DVDs and treating patients in person as well –and, having identified a need, he's got a singular focus on the trucking community. Pictured is James Hilton in Columbus, Ohio, pitching driver Michael Fuller on how a daily walking program and smoking cessation naturally helps lower blood pressure, the risk of a heart attack and premature death. Yep, those are the risks of habitual smoking, which you well know unless you've been living under a rock for the past four decades.
In any case, smokers might want to look him up — hypnosis, as a sort of supplement to the will (as I tend to think of it) and combined with exercise (which definitely helps control the day-to-day craven craving of the nicotine addict, I well know), has proven to work for many around the country, and Hilton claims to personally be helping as many as 25-30 people a week kick the sticks.
I can't really attest personally to the efficacy of hypnosis, though I did meet a gent in Birmingham who also had a smoking-cessation-focused hypnosis routine he tried out on me under not-ideal circumstances at a restaurant one night several years back. (I was definitely feeling cynical that night: I smoked a cigarette on the way home.)
If "you've got a real case of the want-tos," as my Pop would say (crucial to the effectiveness of any effort), on the subject of quitting, Hilton's program could be another avenue. Read more about it via his website.
And those of you who've been successful in stop-smoking efforts: How did you do it? Tell us in the comments.