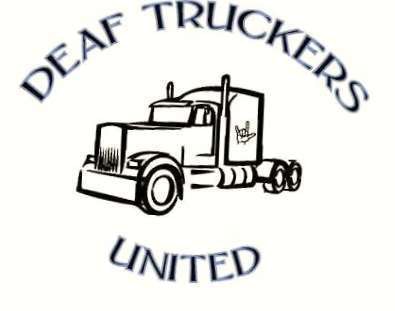 For a second year, a large contingent of members from the Deaf Truckers United Facebook group was in attendance at the Truck Driver Social Media Convention. Last year, their attendance and increasing engagement in issues of concern to all drivers was on the heels of the National Association for the Deaf's petitioning the FMCSA on behalf of a group of deaf drivers for exemptions to the hearing requirements for medical certification. FMCSA was considering such for the first time.
This year, FMCSA medical chief Elaine Papp was on hand, detailing agency efforts to act on those exemptions, which she described as eventually becoming "routine" in a manner similar to today's diabetes and vision exemption programs. Generally, the tone of her talk was hopeful. The organization DTU group's Randall Doane took the time to address the assembled at the event, expressing solidarity with drivers on all the issues they face. We caught a brief bit of his talk in the following video. Below the vid, I've included the group's testimony distributed to all convention attendees.
And tell me your thoughts: Should the hearing requirement be removed from the physical qualifications for CDL drivers? Modified somehow? Or are exemptions to the current rule the best way for FMCSA to approach medical certification of hearing-impaired drivers?
[youtube bZPu8pAuKdo nolink]
Testimony from Deaf Truckers United
Oct. 27, 2012 at the Truck Driver Social Media Convention, Kansas City, Mo.
Today, Deaf Truckers United (DTU) is here again for the second-annual Truck Driver Social Media Convention. Everyone should now know that Gallaudet University found that deaf people have great peripheral vision, and this allows them to use the mirrors more effectively to drive on the roads. The Federal Motor Carrier Safety Administration also did their research and found no evidence that a person's hearing loss will affect the driver's safety in any way. We can now say that driving a truck is not about hearing, but rather others skills, for all truckers.
DTU is aware that there are many other struggles for both deaf and hearing truck drivers. DTU is also returning to say that, if there are many obstacles created by the FMCSA that are similar to the unecessary 40db-hearing-loss regulation with or without hearing aids, then FMCSA is robbing many skilled deaf and hearing truck drivers of their dream jobs. DTU is evidence that many deaf people have been prevented from a future due to an unnecessary obstacle created by FMCSA. These unnecessary obstacles for all truckers need to go.
We believe we have gotten our foot into the FMCSA on our issue. We would like to take a moment to thank Larry Minor and Elaine Papp for their efforts to help DTU. They are helping us get closer to our mission to remove the hearing and speaking regulations.
DTU is still standing strong to support the 45 deaf truckers to get a waiver. We are pleased to share that those who responded to the Docket (FMCSA-2012-0154) numbered approximately 475 people. Out of them, only five were opposed to the exemption. The National Association for the Deaf affirmed that none of the five provides any objective or statistical evidence to justify the hearing requirements. This is a good sign for deaf truckers. It shows we have received support from the community. We hope that these 45 deaf truckers will get a waiver, and this will open the door for many deaf truckers.
Our hearing ally, Greg Newman, found that his vision helped him more when he plugged his ears while driving more often. Greg admitted that his driving was safer with his hearing loss, due to his checking mirrors, psi gauges and many other things more often, thing he didn't pay much attention to beforehand. Everyone needs to ask themselves, "Who is the safe driver?" The safe driver is the deaf driver on the road. National Insurance finds that.
We want to thank Allen Smith for his years of effort on DTU's behalf to fight for all truckers. Not upon any occasion did he forget the DTU members. We are honored to know and work with him. We would not be here today if it was not for him.
DTU members and deaf people who want to be truckers are still struggling to become truckers due to FMCSA's regulation that states a deaf person must be able to hear a forced whisper or have no greater than 40 db of hearing loss in the better ear with or without a hearing aid. DTU will continue to insist that this regulation needs to go.
We look forward to the day when we will no longer be looked at as a safety issue. Driving is about proven skills and safety — not dependent on hearing. And DTU is evidence that FMCSA is creating many safety issues that are not necessary. DTU stands with our hearing allies against many of these poorly created regulations.