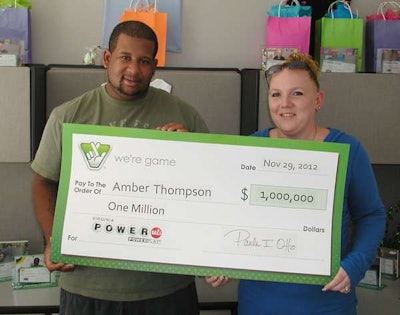 Yeah, that's a big check — for a big win this week in the big Powerball drawing. Independent owner-operator Marvin Thompson's wife, Amber (both pictured), purchased the winning Powerball ticket at a mini-mart in Daleville, Va. As with so many of these things, it was, she said, the first time she'd ever purchased such a ticket.
According to the Roanoke.com site, Marvin planned to continue his hauling, maybe using some of the money to " invest in his own business some to build it." If only we could all be so lucky.
Which reminds me of a comment reader Mark W. Arnold had in response to the question "What do exotic dancers and owner-operators have in common?", on Facebook after my post from Thursday went live. Why, "That's easy," Arnold quipped. "We didn't build our business!"
Here's hoping your weekend's going well, whether home or on the road. Stay safe.