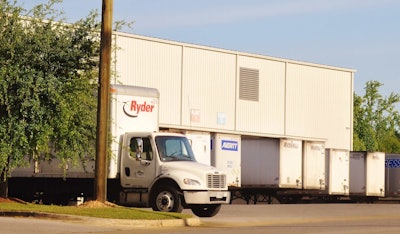 So proposed a commenter in response to my post last week about the Qualcomm presentation on what it called "myths" about electronic onboard recorders. The commenter, an independent owner-operator posting here as "Hammer lane," made what I thought was a salient argument for a return to some kind of regulated detention pay. Here's the meat of what was said:
In all the discussion of electronic onboard recorders [EOBRs], I rarely see mention of the days spent at shippers' and receivers' facilities loading and unloading. They hurt. Not once have I seen detention pay for being held one, two, three hours or sometimes even more. As a general rule I think it should be capped at one free hour and everything else should be charged a fair rate of $65 per hour.
An advantage that the big carriers have over the small ones is the ability to have a trailer pool, which means a driver doesn't have to wait to get loaded or unloaded. Having the ability to "drop and hook," as opposed to waiting to get offloaded or loaded, greatly reduces stress on the driver and company. Small carriers are at a disadvantage, because I don't think I could swing another $350 trailer payment. Furthermore, I can't hire someone to haul it to a shipper for me to get it loaded with product….
It's no secret that, as our recent round-up of voices on the detention-pay issue suggested, the deterioration of driver pay conditions in trucking since early 1980s deregulation has been compounded by tightened restrictions on drivers' hours and little to no improvement in compensation for detention at shippers' and receivers' facilities. Though while a return to regulating certain aspects of pay such as detention may sound favorable to many, and the Federal Motor Carrier Safety Administration has a long-term look under way at the extent of the uncompensated detention problem that could lead in that direction, the hold that deregulatory philosophies have on the big-business climate is a huge barrier. We've been down that conversational road here on the blog before, when I reported on the House of Representatives' small-business committee's hearing on the Compliance Safety Accountability (CSA) program's independent-trucking-business effect. Recall what broker Jeff Tucker had to say about the government getting back into the business of price regulation:
I would hesitate going down the road of somehow regulating pricing for trucking. It will be something that industry will rail against. You'll have the National Association of Manufacturers and every other association screaming — it will be a bloody war… and eventually it will raise prices to all of us.
The explosion of often cutthroat competition in the industry to this day, if "Hammer lane" is correct, however, has led to an untenable situation for small businesses in transportation. EOBRs and further rigidity in the hours of service are the last piece of the equation, and to him they represent no less than a sort of last brick holding up the wall that is his owner-operator business' viability. Here's how he concluded his commentary: "Currently, with the way I run my business I am lucky to see a 20 percent profit margin. More realistic numbers show anywhere from 10 to 15 percent. Considering all the issues I just spoke of [detention, the advantages of large carriers] staying the same, after the new hours of service and EOBR mandate become law, I will be lucky to see a zero to 5 percent profit margin. At those margins, I am better off finding another line of work. This is not the way the American life was meant to be."