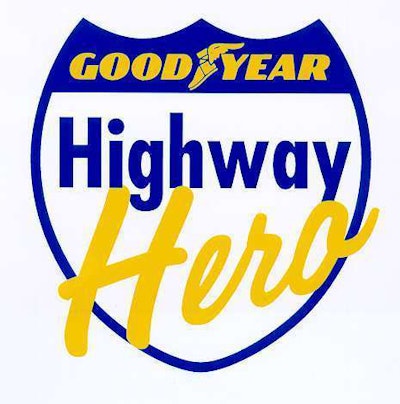 Goodyear's Highway Hero Award nominations for 2012 are open (submissions accepted through Jan. 31) — since I got the notification yesterday, I've been thinking about an as-yet-unrecognized case I got wind of via reader Dave Lippert. It involves not only an on-his-toes bit of high-speed assistance by driver Frederick Golden, but more than a bit of teenage carelessness gone horribly awry: a brick tossed from an overpass into traffic struck and shattered a female motorist's windshield, causing serious injuries. She was en route to the birth of a grandchild and had three of her own children in the car with her.
It all happened on I-20/59 in Tuscaloosa, Ala., the city of Overdrive's headquarters. Read more about the case in the Tuscaloosa News here.
While he hadn't seen the brick, Golden, behind the injured woman's vehicle, sensed a medical emergency as the car weaved in its traffic. Golden reportedly "drove in both lanes to keep other traffic at a distance until [Jones'] 14-year-old son pulled the vehicle to the side of the interstate," as the News reported, Golden calling "911 and [helping] calm Jones' sons, 14, 8 and 5, until police arrived."
Golden was humble in his statement to police. "I was just a fellow human being helping a person in need," he said, as reported by the News.
It's seemingly small acts like these that deserve our recognition, particularly in light of this year's numerous big public tragedies. Reflecting back on the year, as we all do during the holiday season, I know I'll be thinking of this driver, among others.