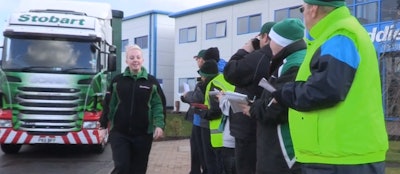 In a development perhaps unprecedented for a musical group made up of active truck drivers, the "Eddie Stobart Truckers" topped iTunes' video chart on the debut of a trucking parody of the "12 days of Christmas" tune yesterday. The partridge in a pear tree in this case would be a "new truck for my deliveries," delivered by the Stobart company, a long-established fleet that grew from one truck beginning in the 1970s.
The release of the vid was intended to raise money for the U.K.-based Help for Heroes charity, dedicated to military servicemembers across the pond. (Press reports note that 10 percent of Stobart's employees are former military.) The company hopes to remain high up on the Christmas charts come Dec. 25.
It's quite a production, too.
You can check it out below, via YouTube, but if you'd like to contribute to the effort, it can be downloaded for a few bucks via iTunes here.
[youtube yssjhBRr1wc nolink]
Longtime regular readers may well remember the Stobart company, founded by a single-truck agricultural operator, from my post on the "truckspotting" practice in the U.K. in 2011 (not left out of the Xmas parody vid — the image at the top is the "seven spotters spotting" verse). Read it here.