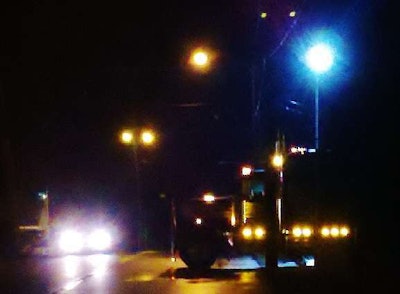 After my post about rates last week — including independent Greg Trott's dark example of a brokered load any reefer hauler accepting the offered rate would "pay for" the privilege of hauling — former owner-operator Adrian Vechiarelli of Toronto, Ontario (sidelined for health reasons fairly recently), chimed in on rates with a commendation for Trott. "It's good to see some owner-operators can do quick math and realize that most of the rates do not add up," he wrote. "It would be nice if a majority of owner-operators, if not all, agreed to national rates that are established once a year," something he figured would never happen, given well-heeled opposition to a return to almost any form of price regulation.
All the same, Vechiarelli offered a strategy for rate benchmarking that in an ideal world might raise the bar, and it's fairly simple. For those independents who have some degree of control over rates, start negotiation on a roundtrip cost basis rather than a one-way trip, "and mark up from that price," Vechiarelli says. "Maybe the industry would be profitable again. If shippers would disagree with my logic, then maybe they should buy trucks and realize what it costs to run a tractor-trailer.
"Pricing in this manner means you don't always have to count on 'back haul' freight to make some kind of profit…. At least this method ensures some profitability and you're not always running your equipment hard. Unfortunately, because a majority don't use this method, your price can get beaten down."
Does anyone out there think about rates in similar ways, or are such ideals pie-in-the-sky in most niches due to the competition from large carriers who can figure economies of scale into the rate mix?
Judging by the number of times this has come up in recent months, it's clear many believe something needs to change. The primacy of price in competition for freight in the industry, United Van Lines-leased owner-operator Mike Falesch made note of just yesterday in a conversation I had with the 20-year operator, is responsible for a lot of the personal responsibility and professional courtesy flying right out of the business of hauling. Both aspects are, too, bedrocks of safe operation, as Falesch and others see it. Falesch actually favors a return to some kind of price regulation nationwide. "Regulate pricing and you don't need" the Compliance, Safety Accountability compliance regime or electronic logs or any of the safety ("compliance is more like it," Falesch notes) programs that continue to be heaped on drivers and carriers. "If one carrier can haul it for the same price that another can haul it, and another can't come in and cut it down, all of a sudden the owner-operator who gets paid a little more [for being the safest, most-professional driver on the road] isn't choosing between his house payment and fixing his tires."
Detention time isn't an issue for Falesch, given his household-goods-hauling operation, but it's the one potential-price-regulation area that has at least seen some federal attention in recent times. As long as we're talking ideal worlds: hey, maybe it's the brick in the wall that, removed, could send the rest crashing down…
In the meantime, as Vechiarelli suggests, there's no substitute for taking all potential costs into consideration, as well as a healthy margin of profit, to determine acceptable rates.