Kudos today to Lauren Boyer, reporter for the York Daily Record of York County, Pa., who did what so few among the letter-writing and editorializing public do when reminded of their fear of large moving vehicles — er, tractor-trailer combinations on the highway, we mean, of course.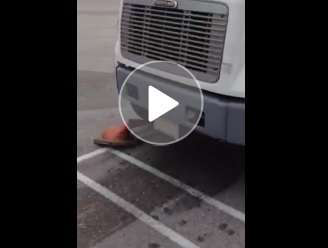 Boyer sought out an understanding of, if not the realities of the trucking business, at least the basics of what it takes to learn the operation of the vehicle. She hooked up with Christopher Rudisill of the DCS School of Driving in West Manchester, Pa., who put her through a cursory training regimen, taking her for a brief run with an automatic transmission and putting her through the backing paces (video via the story at the Daily Record site — yes, she hit a cone or two).
Over the course of Boyer's brief journey into trucking she went from someone who was nearly "sent … into a panic attack" by riding in her four-wheeler in the center lane of the D.C. Beltway between two moving rigs to a woman prepared to heap accolades on heavy highway haulers.
She ended her story with this:
To you haulers of the highway — you masters of the manual transmission — I salute you.
Tony Justice testimonial for October driver social media meet
Driver and songwriter/performer Tony Justice (I last wrote about him and plans for a new record last month) put together a vid from his Tennessee front yard in which he talks on the upcoming  Truck Driver Social Media Convention, slated to return to the location of the 2012 event at Harrah's in Kansas City Oct. 11-13. It's the weekend before OOIDA's big 40th-anniversary event, the Heart of America Trucking Show, also in the KC area Oct. 18-19 at the big speedway. For those who can afford the downtime: might make for one heck of a good week off in Missouri/Kansas, eh?

(In other show news: I'll be out at the Crossville, Tenn., edition of Overdrive's Pride & Polish at Fitzgerald's next week Friday, June 28 covering the trucks showing there — the show runs through the following day — as well as The Great American Trucking Show in Dallas Aug. 22-24: hope to see you at both! And: how was SuperRigs this week?)
Find Justice's thoughts on the TDSMC, always a great opportunity to discuss issues with other drivers and owner-operators, below (and our coverage from past events here); other testimonials you can find on the event website.
[youtube 7v-8h3jyzL8 nolink]