If perhaps you've been a follower of @SecretaryFoxx — Anthony Foxx's handle on Twitter — you'll know that his last item as of this morning is dated October 1 and reads thusly: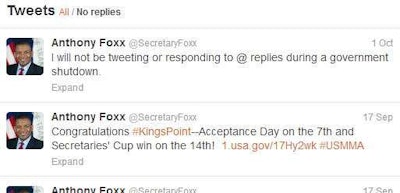 Or maybe you didn't notice — as you can see, his previous tweet was nearly two weeks prior to giving notice that we can expect nada from him during the government shutdown. But hey, maybe we can turn him around. I know a lot of you were unimpressed by the Secretary's last salvo defending the most recent hours changes. Hit me up with your best idea for fixing the hours of service, whether it be a system that recognizes proven safety history, includes more flexible split-sleeper provisions or something else entirely is your choice.
Do it in 140 characters or less and make sure to include @SecretaryFoxx in the text.
I'll collect what you come up with and send them out via @channel19todd over the course of the next week. 1, 2, 3…