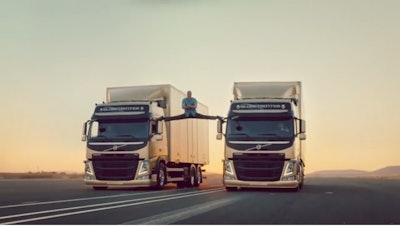 You've probably seen it by this point, as notes the Business Insider blog on Jean-Claude Van Damme's split stunt between two European Volvo trucks, captured via YouTube video — it's gotten more than 40 million-some-odd views since posting, and is meant to showcase Volvo's "dynamic steering" technology as the two rigs back up, moving apart as Van Damme balances on the mirror brackets.
If the Volvo Trucks company doing a weird, wild and wooly stunt with a couple trucks sounds familiar, look no further than Summer 2012 here on the blog, when the vid featuring slackliner Faith Dickey wire-walking between two fast-moving FH models ran here. Since that "Live Test 1" stunt, the Volvo video social media engine has been anything but idle. The latest stunt with Van Damme was Live Test 6. You can check it out here:
[youtube M7FIvfx5J10 nolink]
As for the rest, I've included them below. Enjoy.
[youtube 1zXwOoeGzys nolink]
[youtube 7N87uxyDQT0 nolink]
[youtube _BRoU1hw-CU nolink]
[youtube Jf_wKkV5dwQ nolink]
[youtube AoVI2KzO-_Y nolink]