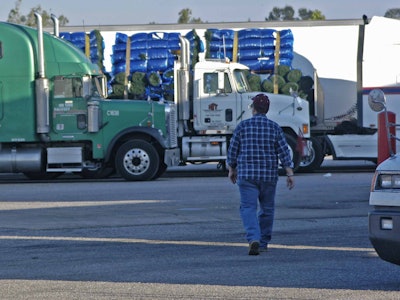 At a Walmart distribution center in Monroe, Ga., reports the local Walton Tribune newspaper, "an "86-year-old truck driver from Kansas died." His long life wasn't brought to an end due to any natural cause, however. He died "from injuries suffered when he was hit and drug by a tractor trailer."
According to reports posted to Facebook from the location the day after, the driver was hit and killed by another driver while opening his trailer's doors — the driver who hit him apparently didn't even know he'd done it.
Blame the 14-hour rule if you want, some said, for a perceived increase in incidents like this in parking and loading areas. But all in all, comments from several others posting yielded the same overall message — wear reflective vests, jackets, etc, and when behind the wheel slow down in parking and loading areas already!
Seems self-explanatory, but if we take a look at some of the responses to Max Heine's Overdrive Extra post last week about Insure.com's survey ranking the most annoying driver habits, you don't have to look long to find evidence that some out there just don't get it. Asked on Facebook for the most annoying driver habit, "Ron Arguin" had this to say: "Truck drivers in governed company trucks that feel the need to go as fast as they can in parking lots and construction zones."
For the driver killed in Georgia, such may have meant his life.
Following find a round-up of further thoughts on the "most annoying driver habits":
Rusty Evans: Drivers who park in the fuel island and stay in the truck stop a half hour. And don't get fuel!
Maura Michaelson: Drivers using their brights to flash you over… Really? I'd rather you did nothing!
Robert J Lockhart: Drivers who run bright fog lights in clear weather. It's like running your wipers on a sunny day — just doesn't make any sense to me.
Fred Sarrach II: Middle lane runners! Keep right except to pass, not keep middle except to pass. The middle lane is not a travel lane!
Terence Gunderson: The right lane is for entering or exiting the freeway — the middle lane is the travel lane. The left is the passing lane. Don't just hang out in the left lane. If you're going to pass, go on and pass and return to travel lane. It's not that hard.
Mark Taylor: People on the phone and people who play road hockey by not using turn signals. You have to guess what they are going to do next.
Zachary Bell: Lane Guards (the slowpokes in the left lane), Lane Hogs (those who don't get over or speed up to let one in), and Procrasta-Mergers (the ones who wait until a lane closes, then attempt to cut off the person in the open lane to get somewhere a single second faster — usually in a work zone or at a get-on ramp). Tailgaters are a pet peeve of mine as well… If you can't see me in my mirror, I can't see you.
You can weigh in yourself via this link to our Facebook page.