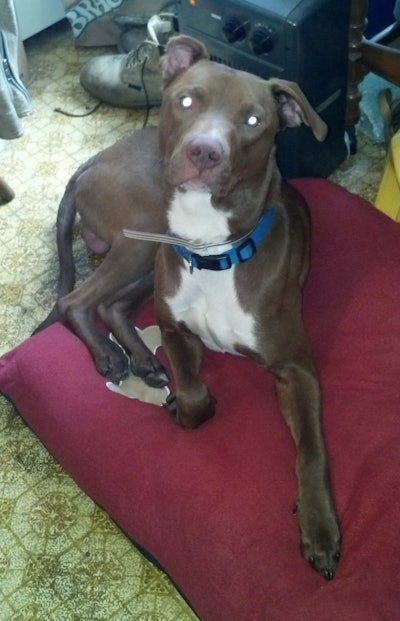 Reader Mary Hanlon wrote in with a heartening story about the pit bull pictured above, Buddy Roe, which "somebody dropped off at my house," she says. Local animal control told her very few pits get adopted, "and wind up euthanized." As she tells it:
My heart got in front of my head, and after calling every animal shelter in the surrounding five counties and the local sheriff's office to see if anybody had reported a lost Pit Bull — no such luck — … I am looking at a whole new lifestyle traveling the United States with a pit bull.
While searching the Internet for a resources on locales that look unfavorably on the breed, she's found "links for individual cities and counties," she says, with laws that "range from everything from leash length to muzzles to Denver, where if they find what they determine to be a pit bull in your vehicle, the dog is confiscated and immediately put down." Certain counties in Rhode Island, she adds, don't allow pit bulls to be transported through their counties.
Is there a central location out that collects and files pit bull-related laws around the nation? I have a suspicion it may be as hairy as the laws on carry a firearms through certain districts. Any of the pit owners in the audience have a suggestion for her?
While the dogsbite.org site has listings by state of so-called "breed specific laws" on the books, there's not really effective search tool to see laws along a particular route.
Any thoughts on areas where enforcement of such laws is active could be helpful, too.