It's been quite a while since I've come across a powerful salute to the machines that buttress the business of trucking. We've seen plenty such shout-outs — well-deserved — for the folks behind the wheels of said machines in recent memory, but lately, what with the ongoing California Air Resources Board business and the problems so many of you have reported with the post-2006 emissions technology, there's been quite a bit negative coming across the transom.
Dillon Lego, likewise, threw out something of a truck-salute with these pictures of a couple of his "dad's rigs," he said, sent along with no other documentation. Not bad…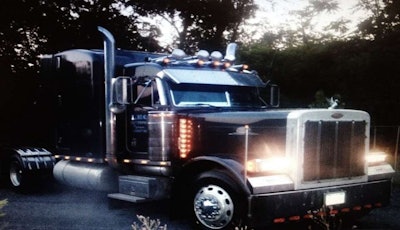 And then I found the following, from driver Jean Annette Hamman, among posts yesterday by fans of Overdrive's Facebook page on our timeline:
Going down the road tonight, I looked around and once again was blown away by the fact that I am able to do what I love. I have never seen anything so awesome as a convoy of rigs headed in the same direction. Or simply to admire those graceful giants as they make their turns and park their gorgeous selves for the night. I hear park brakes being set and I always think of it as the rig giving a big contented sigh for completing another hard day at work.
I, as a driver, know that without our skills these lumbersome beasts would quietly sit. But I am never naive enough to not realize that its these big awesome creations that tote the loads and climb the hills and allow us the chance to obtain awesomeness while guiding them in the direction they should go.
Yep, from the heart of a lady driver! God bless you all and safe sleep.
Salute!