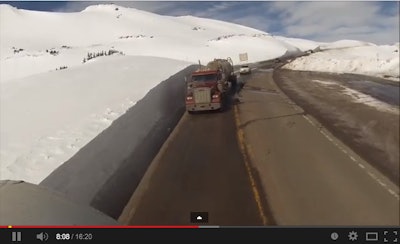 How's that for a snowdrift?
It's caught from another video from the GoPro Camera of young Caleb Christner, son of Don Christner, the Reed Hurst Trucking driver whose dispatches from the road you've become familiar with over the last year or two.
Here's what the elder Christner had to say about the short (first) and long versions of a trip over Loveland Pass you'll find embedded below:
I was asked to go about 100 miles west and a little of south of Denver to Climax, Colo. Reed Hurst driver Durk Lackas makes this run almost every day, so he would be my babysitter this day. I knew this would be a fun drive west into the Rocky Mountains, so I got a permission slip for my 13-year-old son Caleb to ride along.
We can't go through the Eisenhower tunnel on I-70 with hazmat, so you have to go over Loveland Pass. Caleb brought his GoPro camera and made a video [of the haul on] Highway 6 in Colorado. I know we've made a Loveland Pass video before, but this one is a little different — better! This one is taken in winter, looking back from a much higher view and watching driver Durk Lackas drive over Loveland Pass. The high-def scenery is amazing!! That camera gets it done!! Arriving at Climax, Colo., we delivered our loads on top of a mountain at 11,500 feet! I got elevation sick, taking deep breaths to ward off the dizziness. Durk told me he chains up as many as four times one way to make this run!
We didn't chain this day, but I was so shot when we got back to Cheyenne, Wyo.! I was glad I had Durk to show me how that run works!
[youtube zjMLAO7zaTc nolink]
[youtube 9Efg7la-Pio nolink]