My colleague Jason Cannon over on the Hard Working Trucks site tells the funny story — posted yesterday, so "told" my be a more apt choice for the verb — about the Detroit big three's social-media competition to one-up each other responding to Jimmy Fallon's brief mention on the Tonight Show that he was planning on buying a pickup. As Cannon writes/wrote:
The question of which truck he should consider was posed originally to his house band, then to the studio audience. From there, Twitter (and Detroit) caught fire.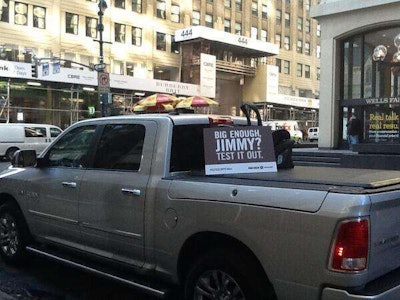 I don't know Jimmy Fallon personally, but I would suspect he's not had to struggle financially for a few years. Hosting NBC's The Tonight Show, his new gig since the beginning of the month, also comes with a respectable hourly wage (a reported $12 million annually). So, he could probably stroke a check for whatever he wants.
Ford then tweeted at Fallon a recommendation for a (guess what) 2015 F150, both GM and Ram then following suit. As you can see in the picture above, Ram went the extra mile, sending a 1500 model down to NBC studios and urging Fallon to give it a spin.
What do you think? If it's not "big enough" for him, I wonder what kind of registration/permit you might need to run a Class 8 in downtown NYC as a personal vehicle…. Read Cannon's round-up of the story here.
Speaking of NYC, I'm headed there today for the Neal Awards ceremony/show — they're the annual honors for biz journalists, and Overdrive's up for Best Subject-Related Series as well as Best Website in our revenue-size category. The series would be the CSA's Data Trail reporting myself and others finished up last year and are set to relaunch later this year for an update. In any case, wish us luck.