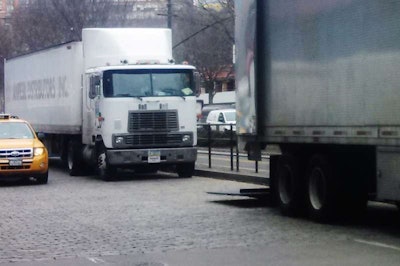 This was the scene outside the Chelsea Piers complex Friday midday on the Hudson River on Manhattan's west side, where journalists such as myself showed up in taxis to a dose of more than a few nice cabover rigs lined up outside the place (the tractor ahead of this International was a Freightliner Argosy of somewhat newer vintage). It was nice to see, heading into the annual Jesse H. Neal awards ceremony, definitely a shirt-and-tie-type affair at which I typically feel somewhat stiff and out of place.
I've been to the event a couple times before, once with Truckers News after a package on fuel-efficiency-boosting practices and items in our 2008 "green issue" was a finalist, then a couple years back, when a two-part Overdrive series following CSA's initial implementation won its "Subject-Related Series" category.
This year, myself, Overdrive News Editor James Jaillet, and Randall-Reilly Editorial Vice President Linda Longton (with RR head Mike Reilly) were back there this year for finalist placings in Best Website and Subject-Related Series, the latter for the CSA's Data Trail I wrote with wide support from other editors here as well as the folks over at RigDig Business Intelligence on the data-crunching side of things.
It's a long slog through the ceremony, as the near-20 different categories of awards have three revenue-based categories among them, making for near-70 different announcements — we came out with the award in Subject-Related Series, which meant I walked up, shook a hand, grabbed a plaque, and walked off.
The end of the entire event, however, is the announcement of the "Grand Neal" winner — chosen from among all the different entries (well upward of 600 all told), judges base their decisions on quality of writing, research, service to the audience, and etc. I was surprised enough to find the CSA subject among the four finalists, unannounced prior to the ceremony, then, about 45 seconds later, that it had won.
Gulp.
I bring all this up because I realized the minute we'd left the stage that I'd missed a golden opportunity to stress the true reason everyone at Overdrive — and myself especially — is able to do what we do at all. The Grand Neal winner is called upon to speak, of course, however briefly, and totally impromptu in our case. I thanked some of my colleagues here at Overdrive who weren't in attendance for huge support on the project, mentioned my wife and kid, etc. But I failed to mention the very most important of all support structures for the whole of the Data Trail series and my understanding of how the CSA safety program is affecting small businesses operating in trucking today. That, of course, would be you, and several different specific people among you, to whom I'll no doubt be reaching out specifically in the coming weeks.
Not that you'd have been able to hear it had I shouted out to our readers there, but it's a message — the importance of knowing and listening closely to your readers — that's often lost among all the shop discourse that comes out of such inside-baseball events. So, for you, here's a great big thanks for continuing to show me where the problems are out there that need to be highlighted, that need to be addressed. I do my best to listen, and engage (I owe you a call, Cody, among others!).
Thanks, as always, for reading and writing.