What possibly could occasion this…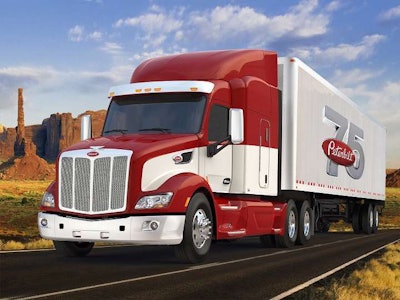 …hauling a flatbed load of this?: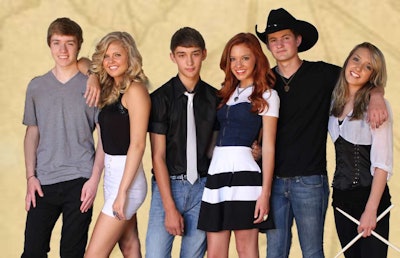 For that, you can thank the Cincinnati Reds' Opening Day Parade, taking place March 31 and which is something of an institution in the city. You can also thank the young men and women of country music act Jetset Getset pictured above, and Peterbilt of Cincinnati. "We're super excited to be in the Reds Opening Day Parade and to be working with Jetset Getset," says Peterbilt of Cincinnati manager Melissa Larson of the plan to pull a flatbed trailer in the parade, on which the band will perform a trucking-themed tune called "Mile a Minute."
The group is based in Cincinnati-area Dearborn County, Ind., and comprised of singers Tori Little and Avery Eliason, and musicians Jason Owens (lead guitar), Justen Jette (rhythm guitar), Paul Kelley (bass), Gillian Bowman (drums) and Terry Ranck (keyboard). They've gained some high-profile attention among the younger set (members are in their teens themselves) since the "Saturday Night" disc came out from Playback Records last year. Read the story of that album — and the band — via this link. The Country Music Association (yes, they of the eponymous CMA Awards) planted the group among its "Who New to Watch" crowd, among other noteworthy accolades.
Take a listen to "Mile a Minute" on Jetset Getset's ReverbNation page.
The "Mile a Minute" track was written by Tom Paden, and band manager Kelli Jette describes it this way:
The truck driver has just driven off, after arguing with his significant other. The woman is singing about how she hopes her guy will 'make a u-turn' and come back to work things out.
The band approached Peterbilt of Cincinnati after hearing of their involvement in the parade about collaborating, says Larson. "We thought it would be fun… This is Peterbilt's 75th anniversary, and they have a special anniversary tractor with a red and white paint scheme, which is perfect for a parade celebrating the Cincinnati Reds!" They'll use the anniversary-edition 579 in the parade. City residents, keep an eye out for it!