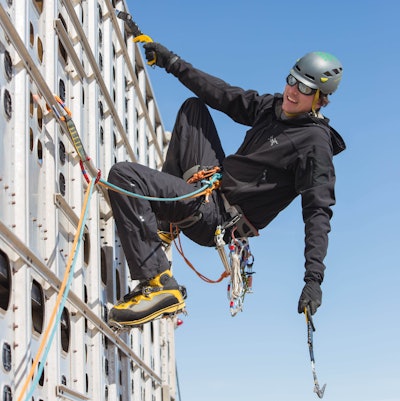 Why's that ice climber scaling a cow trailer? As any bull hauler will know, Matt Hopkins (the ice climber in question) included, it's not exactly that out of the ordinary. "I climb up there all the time," he says, for one reason or another. More often than not, it's to nudge a recalcitrant bull to turn around and exit the trailer after he's opened the rear door to unload.
This month's cover story in Overdrive is about Hopkins' Truckers Against Trafficking benefit climb of Mount Aconcagua in Argentina (read more about the journey here). We figured, hey, how better to combine the climbing and trucking parts of Hopkins' life visually than to put him to work on the trailer with his ice-climbing gear. The photo shoot took place where Hopkins parks his truck, near a friend's place in Dillon, Mont., with plenty of yard to work with — these outtakes show, if nothing else, the oddity of the images that resulted. Turns out that, sometimes, the more elaborate the shot, the less effective it is, ultimately.
Score one for originality in trucking photography, though — find a gallery of further images following, all shot by Belgrade, Mont.-based Brian Smith of High Mountain Photography.