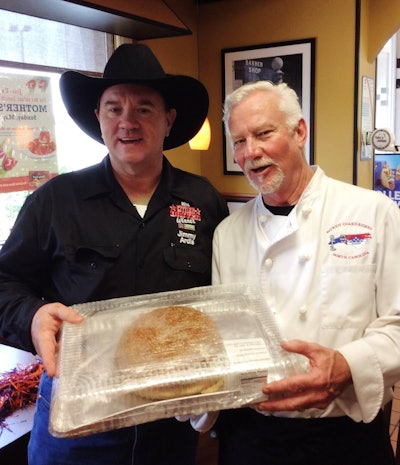 Introducing the "Monkey Gouger" — 100 percent ground Angus beef with two cheese (swiss and cheddar), lettuce, tomato, onion. and jalapeno. It's topped off with a touch of mayo, ketchup and mustard and with a side of mayo for your fries, special order of the driver pictured on the left above, owner-operator Jimmy Ardis. The dedication ceremony for the TA location in Manning, S.C., recently renamed in Ardis' honor after he won one of TA Petro's inaugural Citizen Driver Awards, went down over the weekend, with friends and family on hand to congratulate Ardis. Oh yeah, the Mayor of Sumter, S.C., was there as well, Ardis says, to proclaim May 10 officially "Jimmy Ardis day."
"We had a pretty good time," Ardis says.
The Monkey Gouger burger won't be on the menu, but if I-95 haulers do happen upon the Manning location with a big appetite, ask for it, Ardis says. "Everybody knows about it there" at this point.
New Peterbilt ode from Bill Weaver
Weaver laid down another one of his signature trucking tunes — the last I shared, you'll recall, along with a Tony Justice track, was something of a Christmas song. Speaking of Tony Justice (you listening, Tony?), Weaver starts this vid out with a message for the driver-songwriter. He hopes Justice likes this ode to a Peterbilt — how it was when it was first acquired, anyway, pre-e-log, pre-speed limiter. It might be more of a blues, in the end. Hear it here:
[youtube CaoIEN00hFY nolink]