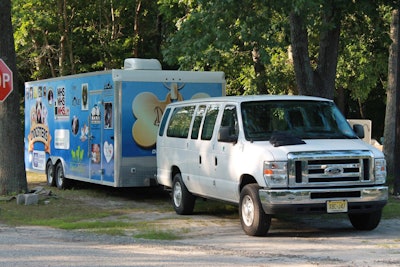 If you happen to see this van/trailer combo out on the highways late Wednesday, Aug. 20, or in the wee hours of Aug. 21, flash your lights in memory of driver Richard Sullivan, says Williamstown, N.J.-based Karen Talbot of Animal Aid USA, an animal-welfare organization cofounded with Prince Lorenzo Borghese and dedicated to animal welfare. Talbot has set those August dates to return driver Sullivan's dog, Bella, to its family. Bella survived the three-tractor-trailer accident that took Sullivan's life just before midnight Sunday, Aug. 3, in Shippensburg, Pa., on I-81.
After Karen was contacted by Sullivan's Chatsworth, Ga., family via her own connections in the Peach State, Animal Aid has taken over funding the medical care for the dog and will make the long trip back from Shippensburg, Pa.-based Mountain View Veterinary Services to Sullivan's family to bring Bella home on the 21st of this month.
"We travel to Georgia every 30 days," Karen says, to "rescue an average of 150 animals and relocate them, fully vetted, to the rescue groups who are within our team, at no cost to them." Those groups then adopt the animals out within their communities.
Georgia has been Karen's particular area of operation for "almost four years now," she says. "Bringing Bella home is an honor to us, since we have such an allegiance to Georgia and want to get her back into the loving arms of her family, to also provide them some comfort."
The route that Talbot and her husband will take on the 20th and 21st will follow interstates 95 south to 495 and 66 west to 81 south, catching I-40 in Knoxville, Tenn., to I-75 for the last leg past Chattanooga, Tenn., to the north-Georgia town of Chatsworth, near Dalton. 
Karen's hopeful some among you in the area may be interested in joining her for a convoy on the final leg of the journey approaching town. "We may not be truck drivers," she says of herself and her husband, partner in the Animal Aid USA nonprofit, "but we have such a sense of camaraderie when out on the very same roads every month with all the truck drivers. I personally drive for about five hours of the trip [to and from Georgia] while my husband sleeps. My shift is typically midnight-5 a.m."
Before she started doing so, she admits she was a little irritated with the prospect. But over time, she came to cherish and "look forward to it, for my reflection time," she says. It's "my quiet, mental relaxation time, just me and the truck drivers on the road" in the wee hours.
"I feel very safe on the roads surrounded my so many truck drivers," she adds. 
Drivers interested in honoring Sullivan's memory with a convoy can contact Karen via email or phone: talbotk@animalaidusa.org or 609-665-1224. Visit her Animal Aid USA website via this link.