The road construction season and its headaches no doubt both for truckers and the folks doing the construction this week got a little bit of aspirin in the form of something of a welcome obstruction — or a diversion, you might say, for one Michael Crowe in Watkinsville, Ga., reported the Oconee Enterprise.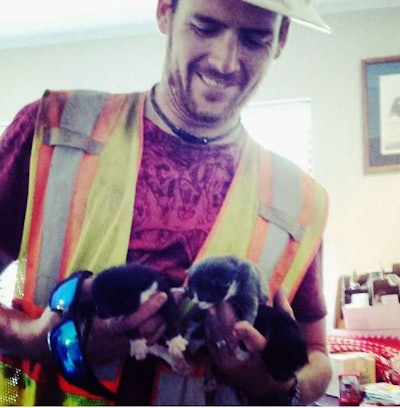 The Georgia DOT, Northeast Division, then shared this photo on its Facebook page with text from the Enterprise detailing the scene Crowe came upon during a widening project on Mars Hill Road.
Road worker Michael Crowe last week encountered a litter of feral kittens blocking the path of his forklift.
He carried the 10 kittens to the Athens Area Humane Society Mars Hill Road office.
"Kitten season brings so many surprises and the heroes of kitten season come in so many forms," stated the AAHS' Facebook page. "Since they were an unexpected arrival we do not have a foster home yet." AAHS can be reached at (706) 353-2287.