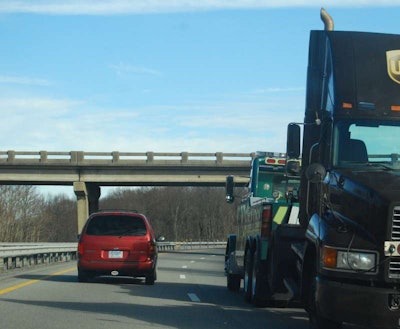 That is, according to wise man (from Wisconsin, no less) Jeff Clark, who blogged about his "ridiculous campaign to become FMCSA chief" (those are his words) over on the Team Run Smart site yesterday. You may well remember he threw his hat informally into the ring back in late February/March via another TRS post. At that time, current Acting Administrator T.F. Scott Darling was nearing the end of an interim term, since extended, and the FMCSA may well be closer to naming a more permanent administrator to ultimately replace longtime head Anne Ferro (out last year).
Clark says he decided he's go on and "be prepared and write my FMCSA Chief acceptance speech ahead of time, just in case."
It's a simple one, and in today's world with its emphasis on technological fixes to problems of on-highway safety, it boils down from something Clark once joked about while imagining himself leading a carrier safety meeting with this single message:
'Don't run into stuff.'
I told you it was simple.
And it's another way of saying what was suggested by Landstar-leased owner-operator Gary Buchs' anecdote about opting into hard-brake and other ECM data reporting after installing electronic logs. The reporting and follow-up calls with safety, as he saw it, caused more distractions than they were worth. Read his story here.
At least one commenter under that post shared a similar story of monitoring systems and carrier policies of a call-in for every hard brake. For some, such things will "undermine the driver and create doubts in the driver's mind of their own judgment," wrote Yote Anders. "These systems are only as smart as the people monitoring them."
Anders relayed the following story: "I got cut off on a ramp in California by an elderly gentleman who proceeded to come to a dead stop on the ramp. I had no choice but to slam on my brakes or hit the moron. Before I could even change gears, safety was calling me. That alone was a distraction while I was trying to check if i was going to get rear-ended! Not every hard braking event is the driver falling asleep."
All the same, as Clark puts it, safety technologies have their place, and such that they do help to prevent accidents from occurring should be embraced. There is value, however, in keeping things simple, as I've noted before. And re-emphasizing the bedrock importance of the driver's ultimate total awareness and control of any on-road situation ought to be message No. 1 in any highway-safety conversation. As Clark puts it, "a well-trained professional driver will always be the most important part of safety."
Don't run into stuff? Don't run into stuff… Got it.
You can read his full post here.
P.S.: We've had this poll running here for a little while:
If you've had recent experience putting a new/used/leased truck into service in your operation, I'd love to hear your thoughts about the experience good, bad or indifferent. Any tips on good dealers to work with, financing through a bank/captive lending institution, good leasing sources, alternative or mainline sources for truck research before the buy and etc. are well appreciated. Drop a comment here or hit me with an email at tdills [at] randallreilly.com.