As National Truck Driver Appreciation Week got under way a couple weeks back now, I asked fans of Overdrive's Facebook page what the week meant for them at their carrier, attempting to gauge the extent to which fleets out there participate in celebration of the week. Best way I can characterize the responses? Heavy on wisecracks, I suppose.
Like these:
Tim Fish: We get to spend the week away from home.

Douglas Dunn: We get cookies all week.
Ken Breaux: Ha ha. That's a good one.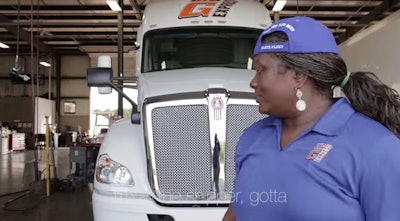 I'm at the shipper, gotta…
…wait, wait, wait, wait, wait… A big part of the intent behind the video, says Big G's marketing manager Jodi Lamb, was to "improve the image" of drivers in the trucking industry by bringing out "the challenges that the drivers face, to counteract the lawyers on the billboards and in the television ads."
Seems the folks at Shelbyville, Tenn.-based Big G Express may have gotten the message.
Here's what appears to have been a primary portion of their appreciation-week activities. It's a music-video parody of Taylor Swift's rather goofball "Shake it Off" entry into the dance-music canon, featuring a Big G driver in the starring role with arguably better dance skills than Ms. Swift.
I'm no good judge of such things, I'll say, but it does at least look like they had a grand time making the vid, nonetheless!
How's that for a little driver appreciation, eh?
Compare the parody and original for yourself below. First up, it's Big G's Keda White of Clarksville, Tenn., lip-syncing the backing track. Drumroll, please…