And not in the truck driver's favor.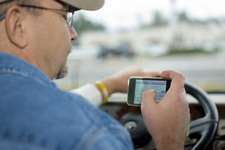 When I saw the headline — "Trucker's Facebook Habit Settles Case for Injured Driver" — on this story in the Daily Report Online (looks like Land Line also had some reporting on it Thursday as I was putting this together), I couldn't help but think of Wendy Parker's presciently-titled "Just say no to stupid" post from a month back. While it started with Parker's somewhat supercilious pet peeve over drivers' choice of footwear, it cut pretty hard into the issue of distraction and in-cab mobile device use and the, well, further shots to the negative with which it hits drivers' public image:
Someone sent me a link to a Facebook page, which I refuse to name, because I don't want this person to receive the attention he's so desperately crying out for. Picture after picture, clearly taken from the driver's seat – while driving. Bare foot propped up on the dash, one hand on the wheel, speedometer showing 70 mph while the jacktard driving takes pictures and plays on Facebook. One of the more infuriating posts includes a halved watermelon, sitting on the steering wheel with a spoon in it – again with the speedometer clearly reading movement. So not only is this fellow taking pictures and playing on Facebook while he drives, he's having a little snack.
This is where I snapped and left a comment, indicating that this person is part of the problem we have in the industry with image. I went on to tell him that I really don't care what he does in the privacy of his own cab, but when he starts posting pictures to social media of himself doing phenomenally stupid and dangerous things, he involves every single driver on the road. Not to mention making a case for every ambulance chasing lawyer in the world.
And indeed, today we have an example of where such kinds of habits can lead. The driver in the case linked to above had posted in the past at various times pictures that were clearly taken from the driver's seat of his cab. And for the attorney, Ben Broadhead, it ultimately didn't matter whether anything was shot and/or posted at the time of the accident, in which the auto's driver was critically injured, as reported by Kathleen Baydala Joyner:
The pivotal moment in the case occurred during a videotaped deposition of O'Reilly at his attorneys' office last October, said Brodhead. During questioning, O'Reilly at first denied using a camera, phone or computer while driving, but he later admitted to taking photos while driving after Brodhead presented him with dozens of posts captured from O'Reilly's Facebook profile.
While none of the photos or comments was posted at the time of the wreck, Brodhead said he was able to use them to establish a pattern of distracted driving.
The ultimate result: "$1 million settlement from the trucker's company and insurance carrier," Joyner reported.
Ultimately, think before you post, something too many, as Parker suggests, just aren't doing. After her comment on the Facebook profile she mentioned in her post, here's what followed:
I'd say about half the comments after that were distinct suggestions for where I could stick it. I was told he was a "professional" and knew what he was doing – by other truck drivers. He responded that "he was here to stay" and "I better get used to it."
The plaintiff's bar salutes him, no doubt.