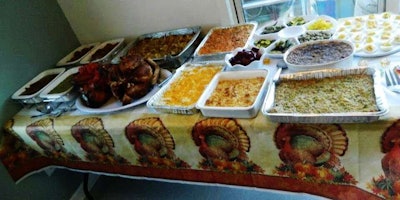 It's that time of year, folks — the one where we give thanks with food and friends and fellowship all around. For too many drivers, the Thanksgiving holiday is spent on the road — "Thanksgiving. And that means what?" Mark Ward Sr. cracked wise recently on Overdrive's Facebook page — though that itself doesn't preclude the three Fs above, particularly if you're headed through or nearby Cartersville, Ga. This year, as for the past several, team Quest Global drivers Brian and Bettina Cameron are opening their home to any driver with interest in a home-cooked Thanksgiving dinner on Thursday morning on through the late evening.
"Every year," says Bettina, "I throw this Thanksgiving dinner for drivers who are on the road in my area and can't get home for family time." In 2013 the Camerons "had about 80 drivers over the 34 hours straight that we serve food. It's a great time, and I wish it would spread to other places!"
It all gets going at noon on Thursday, and they don't quit until Friday at 2100 hours. "Yes," she says, "that means all night Thursday if you get in."
The location is 120 Westside Chase S.W. in Cartersville, Ga., 30120.
Any driver in the area is welcome — most, she adds, tend to park at the TA or Pilot locations in Cartersville "and we will come get them," she adds. "It is always best if they can give a day heads up if they are going to be in the area, but we don't turn anyone away."
The number to call is 601-819-0269.
Bettina reached out to me about the event this year in part because she hopes to inspire others around the country to do similar. "I wish it was something that could spread to other places and other companies," she says, noting that her own, Quest Global, actively assists in promoting the gathering around the area. "Maybe it could influence people to do it. Or give them the idea. We've done it the last five years and it is really a great time. We've got to start remembering we are all a family on this highway. It's like this: Quest Global is my immediate family, and the rest of the industry is my extended family. That's why I love doing it!"
The Camerons budget for the cost of everything every year, though you can't put a value on "meeting and having new friends come out," Bettina says. "It's worth the cost."
If you have a gathering of your own you'd like to share, drop a comment with information about it below or write me at tdills [at] randallreilly.com. I'll update this post with the info.