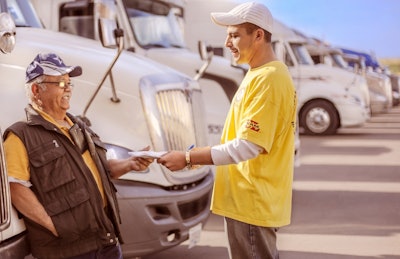 Another "road not taken" here, and it's an unlikely one, at best. While many operators "lump" something every day, full-time work doing so I imagine is no doubt unappealing to many. The income potential, says Michael Croker, Director of Operations for the Universal Lumpers service, in business for 30 years, is on the quite low side, too, particularly at start: "A base lumper that comes in with no prior experience — to start with they make in most markets, though some markets are a little different, in general, you're talking about $10-$12 an hour. Some people end at upwards of $15-$18 an hour."
Those kinds of roles, Croker says, amount to working the warehouse floor at any of the many sites where Universal is the go-to lumping service (always, Croker says, an optional one for drivers delivering there) — "As you move more into the site management role, you definitely have more earning potential."
Serving the Midwest and West Coast areas, Universal's one of the largest contracting lumper services out there, Croker says, and "we do more than just freight handling." The company focuses on streamlining gate-to-gate processes, utilizing technology to improve scheduling, payment transactions and more.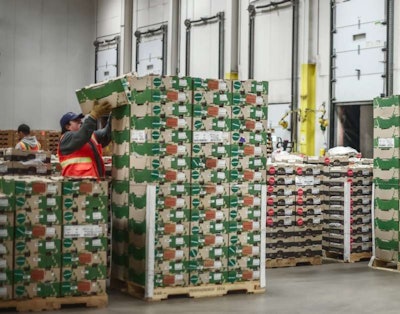 "We put our people as the initial point of contact at the facility – as opposed to checking in with the guards," he says, drivers check in with Universal; Croker feels a lumper "can be an effective bridge between the facility and the driver" – doing the time-stamping to help drivers process their detention claims and more. "We track 60 different pieces of information in a database to be used by both the carrier and the warehouse that hire us.
"Every warehouse that we're in, there's the option to hire us. Drivers aren't not forced to use us when we come in. We try to give drivers an idea of what's going to happen [if they do], regardless, try to guide them through the flow – give them suggestions on where to park, whether to keep their doors open or closed (a big deal in produce). We want to facilitate that whole process," on the way in and on the way out.
As with trucking, lumping is moving paperless in many respects — the company launched its PayLump cashless payment system in recent years. It allows drivers/carriers to pay Universal Lumpers via credit card after services are rendered. Reps call the driver on his cell after unloading is done.
PayLump's launch followed a personal experience Croker had finding a driver's lost wallet in a yard and eventually returning it, but not after witnessing the huge amount of cash the driver carried. While Croker knows there's "always frustration with pay-over-the-phone — you actually talk to a real person. It's not like authorizing a Comchek."
And: "Hopefully this lessens the liability of the driver to carry all that cash, adds some integrity to our business."
Croker says that, as among carriers, turnover among the lumpers at Universal remains a problem, citing a "high-30s" annualized turnover percentage that includes "no-shows," those who just don't show up after inking a work agreement. Back those out and the turnover number's closer to 20 percent, he adds, well better than what's been reported in recent years for drivers at the larger carriers.
And on the issue of dealing with the warehouse, Croker says, a good lumper "really works to bridge that gap between a carrier and a warehouse." He understands drivers' frustrations with receivers.
"Sometimes the last thing a receiver wants is a driver asking questions. We don't want it to be like that – drivers are not second-class citizens. Sometimes, when a warehouse has not experienced lumpers before, we feel like the odd man out – we understand how that feels.
"We're a service for the drivers," he says.
And if his company's driver surveying is accurate, it's a service drivers want: 87 percent of drivers, he says, "do not want to break down their loads."
How about you?