The first is one that I'm glad to see is out and available — I saw an early draft of "Papa Doug Hauls Strawberries and Smiles" this past summer. The writer, Leslie Jones, happens to be an acquaintance of my wife's who, when she found out what I do day to day, reached out with the draft and some questions about it all. It was looking good then, and though I haven't seen the final version as yet, I would reckon it's even better now.
The illustrated children's book drifts creatively and seamlessly between the scene of a trucking father's arrival back for home time and the stories he tells his son as they spend the time together, full of tall tales and, well, hard reality — the strawberries in the title feature prominently, as Papa Dave recounts a flood that blocked a roadway and almost kept him from making the Portland, Tenn., strawberry festival for an on-time delivery. Without him, of course, the festival would not go on.
It's a great story, one that's sure to exercise a kid's imagination as well as reinforce the realities of what it is to truck.
The book's publisher is the Tennessee Trucking Foundation of the state trucking association, and foundation Executive Vice President Dave Huneryager has pledged a portion of the proceeds from the sale of Papa Doug to the Trucking Moves America Forward image and industry betterment campaign.
"Children start learning about how different career paths shape everyday American life at a very young age through the books they read," says Huneryager. "At the end of the day, trucking is one of the most important pieces of that puzzle.
"It's our goal to spread the message that trucks on the road aren't barriers to life, they're providers of it."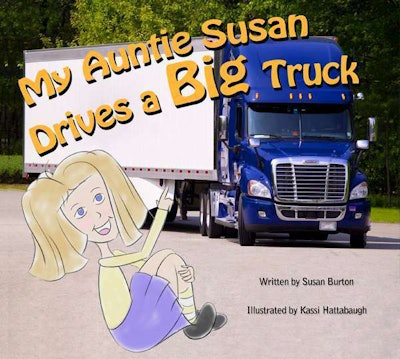 The second, no-less-remarkable book is by former driver Susan Burton. My Auntie Susan Drives a Big Truck demonstrates to children the role that trucks and truck drivers play in their daily lives.
"After writing hundreds of postcards and letters to my Trucker Buddy classes and to my nieces and nephews about what truck drivers do and how they do it," Burton says, "I noticed that all of these children really respected truck drivers and their work, and that's when I got the idea of turning some of these stories into a book for other children."
Burton drove for nearly 30 years herself, the bulk of those with Boyle Transportation, a specialized carrier based in Billerica, Mass.
The book is available in paperback or e-book at Amazon.com by clicking here, and in hardcover through Susan's website.