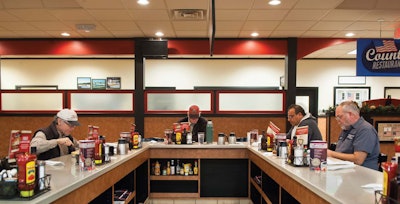 "Month ago I'm driving along and almost astounded at the conversation on the radio. It was warm and friendly. Even inviting. People were talking about the pleasant things in their lives. People were advising of dangers on the side of the road. What I noticed: It was this way because someone insisted on it. Instead of insisting on being a bitter, miserable person they instead insisted on being a helpful person. What I noticed was that it rubbed off on other drivers. We decide in ourselves who we are going to be and we create the atmosphere. If enough good people simply step in and insist on adding positivity, it is amazing how it will turn the tide of feelings of people even who are bitter. We remember these people even if we never see them or encounter them. The difference can be made simply by inspiration." –Harry S. Munster, via OverdriveOnline.com
"Times have changed," noted Kendall Dowdy in my conversation with him about driver-to-driver camaraderie in the contemporary age several weeks back. Clearly, though, as referenced above, one of many thoughts on the subject you can find at the previous link, bright moments are still possible.
As I noted in that prior post, however, the reality is that most people carry a cell phone, and most places around the nation it's possible to get a cell signal. As Dowdy noted in that prior post, everybody knows that, and with road service (or entertaining diversion, as it were) just a call or click away, it's tempting to just roll on in the event of a fellow driver broken down on the road or during any other moment of possible connection.
Another commenter posting only as "Charlie" in response to that post, remembered the last time he truly had a good time with fellow drivers over a long career: "2007 at the TA near Baytown in Texas. We laughed and told stories to each other. The waitress mentioned it was fortunate the manager wasn't there, as he wouldn't like all the commotion. We were not obnoxious, just laughing and having a good time. You do every once in a while meet another fella to talk with or have a meal together, but for the most part you are alone, together."
The end result: He sold his truck in February and took on work at a golf course, operating a mower. "Twenty-six years of safe, accident free driving left the industry with me. I really do miss the old days, but it has changed way too much to put up with the aggravation of the profession now."
At once, as noted Harry S. Munster as part of his notes on the subject of camaraderie, the better part of which you'll find above, good times are to be had if drivers "pick up the [CB] mic and add some good. … Insist on it. Stop and help a driver and when you are being helped let the world know. Because this is how it works. Either you shun the crap or you bury it with some goodness."
Like a diesel engine, karma can be a beast if not kept up with its due of proper maintenance, Munster suggests. If something good happens to you out there on the road today — a coop passes you on by, say, out of the inspection line — as Connecticut-based owner-operator Joe Bielucki put it several weeks back, look for that opportunity to "pay it forward" somehow, some way.