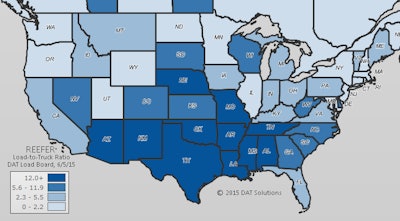 Look no farther than this hot market map from DAT showing a load-to-truck ratio snapshot for refrigerated vans last week (June 5 to be exact) on the spot market, says company analyst Mark Montague, writing in a piece you can read in full at this link. Montague notes that Texas appears to be the produce king in this day and age, well surpassing California and Florida for a variety reasons, some of which I reported on some time back in the feature at this link, primarily about shortening length-of-haul trends. Here's Montague's Texas in-state assessment:
Within Texas, the Hot Market Map depicts sizzling demand, with trucks in short supply along the border with Mexico. The McAllen market is especially strong right now, with well over 2,000 load posts on Friday and a load-to-truck ratio of 29.5. McAllen is a major transit point for produce harvests in the Rio Grande Valley, on both sides of the border. Laredo and El Paso are also border-crossing areas, with 800 to 1,200 load posts and a pronounced shortage of available trucks, driving load-to-truck ratios well above normal levels — above 131, in the case of El Paso.
Van demand has followed in those areas, noted Montague, with most available reefers accounted for.
Fit what you're seeing?
Roadcheck rates effect?…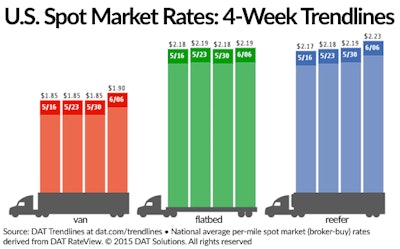 The number of available loads on the spot truckload market jumped 36 percent last week, DAT reported in its weekly Trendlines analysis. Capacity of posted trucks, meanwhile, increased only 5.5 percent. Typically, both load and truck posts increase 20 to 25 percent after a holiday-shortened workweek, like the prior Memorial Day Monday week that preceded last week. Here's the Trendlines report this time around: "The capacity pressure may have been related to carriers parking trucks during Roadcheck, the commercial vehicle inspection blitz on June 2-4." With parked operators unavailable to cover contract freight, some may have hit the spot market as a result, without the corresponding jump in available trucks.
All told, in DAT's numbers, both van and flat rates on average saw a corresponding rise over the last four weeks of 5 and 6 cents a mile, respectively, reflecting positive trends in rates show by Truckstop.com numbers reported yesterday for the month of May.
In the van market, DAT reports, load posts were up 32 percent but truck posts were up only 7.5%. The imbalance sent the national van load-to-truck ratio up 23 percent to 3.0, meaning there were 3.0 available van loads for every truck posted on the DAT network. Average outbound van rates rose in several key markets including Los Angeles, up 8 cents to $2.17 per mile, and Atlanta, up 11 cents to $2.17 a mile.
Demand for reefers increased 37.5 percent and capacity lost 1 percent. The load-to-truck ratio surged up 37.5 percent to 7.3 reefer loads per truck. Rates continue to trend down in Florida but outbound rates rose with truck/driver demand along the Mexican border in Texas and Arizona.
Flatbed load availability added 38 percent, but capacity just 5.5 percent. The resulting load-to-truck ratio climbed by nearly a third to 30 flatbed loads per truck. Changes in the ratio often signal impending changes in rates.
For more, visit dat.com/Trendlines.