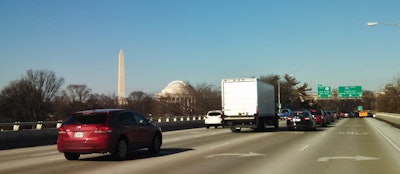 Congressional action relative to the Federal Motor Carrier Safety Administration's 2013-implemented 34-hour restart restrictions has made that particular provision of the hours of service rule simpler since the first of the year. Yet the rash of hours exemption requests from another of the 2013-implemented requirements, the 30-minute break after eight hours on-duty, holds the potential to make things more complicated.
Regular readers may remember that, following an early-year request by beehive haulers for an exemption from the break that was granted in June, reader Tom Strese observed: "Pretty soon our HOS rules are going to look like the tax code."
The hive haulers' request joined others from oversize/overweight haulers (also granted, with conditions, in June), oil and gas extraction site haulers, household goods haulers, fireworks haulers ahead of Fourth of July celebrations (granted again this year), Oregon log haulers and livestock haulers, among others. For most, it's the 30-minute break that's at issue, and FMCSA has been responsive in many instances.
You'll remember, the 30-minute break requirement was at the top of our hours of service "wish list" of changes to improve the regulations. The wish for the break was to do away with it altogether.
From Strese's point of view, complications within the largely one-size-fits-all regs – with his invocation of that prototype of byzantine bureaucracy, the tax code – "is not a good thing."
Many operators have criticized the one-size-fits-all approach to hours, though the current rule's complexity (particularly before the recent restart reprieve) is also a common criticism. In the aforementioned hours of service wish list, in addition to rolling back the break and restart restrictions, readers' top five most commonly selected changes included favor for the adoption of segment-specific or experience-tiered rules to move away from the one-size-fits-all approach.
Eventually, noted Angel L. Pellot Jr., the hours of service regs could "depend on what you haul" or your driving record. Such sentiment holds that added complication in the rule structure is preferable to unnecessary restriction. Commenting here at OverdriveOnline.com, reader Bob Hearns said the problem then would shift from the driver to enforcement.
"One set of HOS rules for an industry as diverse as ours is ludicrous," he says. "It's not for safety, it's for ease of enforcement: to catch and punish those who break the rules. But it is obvious that when the rules make it more difficult to do your job, you are being punished every time you get on the road, not by the state troopers, but by the HOS rules themselves.
"So keep asking for those legitimate exemptions, and maybe the rule makers, who do not know the industry … might wake up and do not only the right thing, but the necessary thing. As a long-distance driver, although I live with the daily frustration caused by the HOS rules, I don't want to have to live with it."
If the rules become too complicated for the U.S. Department of Transportation and other enforcers, "that's their problem," says Hearns. "The departments can educate themselves."
Perhaps the most promising development in recent years aside from the restart reprieve is FMCSA's study of split sleep and its potential to put more flexible approaches to the 10-hour rest period (and the 14-hour rule) back into the conversation at the federal level. Not that it ever left talk among drivers. Again, refer to the wish list — No. 2: "Loosen rigidity of 14-hour on-duty maximum by allowing extensions with mid-period rest (or revert to pre-14-hour-rule regs entirely)."