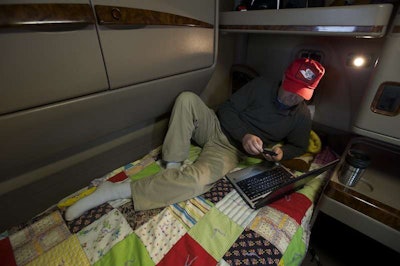 The Federal Motor Carrier Safety Administration has detailed plans to launch an on-highway test of the safety impacts of more flexible splits in driver sleeper-berth periods under the hours of service, said FMCSA Research Chief Martin Walker Oct. 27 at an ongoing meeting of the agency's Motor Carrier Safety Advisory Committee.
"This study will be awarded [to a contracting conductor] by mid-December of this year," Walker said, but "don't look for it to start immediately."
At best, he added, "it will take at least a year through the administrative process to get the study started. If you have drivers [eager to participate], don't expect this study to start to collect data until January of 2016."
The study will seek participants to undergo monitoring for a certain time period as they're allowed a variance in the sleeper-split rules that Walker expects will in some ways resemble prior hours of service rules, with more liberal splits that extend the 14-hour workday.
The study's participation goal is "200 drivers," Walker said, "which would allow us to look at the different ways they split their sleep, and determine what may be the best way."
Participating drivers' on-road behavior will be measured by monitoring of truck system information via fleet management systems, where available. "Or we'll use an on-board monitoring system," Walker said, "something like SmartDrive or DriveCam or the like….We could measure percentage of eye closure and be able to assess drowsiness."
Drivers will be given a smartphone and required to do three-minute psychomotor vigilance tests regularly, with results uploaded via an app to researchers. Actigraph data will likewise be monitored for driver sleep/wake histories, heart rate, respiration rate and physical activity – data will be "automatically uploaded" over the course of the study, Walker said. Analyzing such data in light of the participants' logbooks, necessarily electronic under the current highly automated model of study FMCSA is pursuing, likewise, would be a big part of the effort toward a final product that truly assesses "whether added flexibility can result in reduced driver fatigue and improved alertness."
News of the study followed efforts, Walker said, by Anne Ferro before her resignation as FMCSA chief to follow through on the chief problem noted by drivers during the hours of service listening sessions. Ferro "was instrumental in putting this together," Walker said. "She heard it from many in the stakeholder sessions on the hours of service. She heard from drivers that they wanted more flexibility in the sleeper berth." It also follows results of a lab study conducted for FMCSA by University of Washington researchers that found that split sleep was preferable to consolidated daytime sleep.
Owner-Operator Independent Drivers Association Executive Vice President Todd Spencer, a member of the MCSAC advisory board, called more flexible sleeper-berth rules "absolute common sense… In the real world, drivers have to contend with all kinds of things. The smart decisions is, sometimes, stop and take a break, whether it be for congestion or weather or all sorts of other things." Flexibility to do that, with the hours of service regulations not penalizing drivers via a hard-fast 14-hour workday, might be "one of the biggest benefits that could be offered, and not just for the safety of it, but for improving the job."