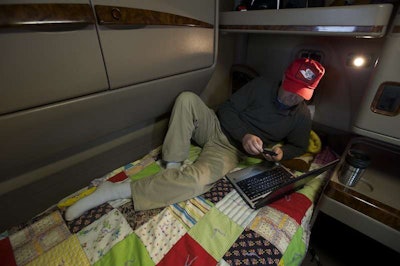 Sleeping during the day makes drivers sleepier and causes drivers to get less sleep than a consolidated sleep period at night and a split sleep schedule, according to results from a study released last week by the Federal Motor Carrier Safety Administration.
Gregory Belenky, a medical doctor at the Sleep and Performance Research Center at Washington State University, conducted the study per request from FMCSA, which wanted to answer the question of whether split sleep is just as beneficial as consolidated sleep in regards to truck drivers, their well-being and their ability to operate a vehicle safely.
"The study compared daily sleep split into two periods versus sleep consolidated into a single period to determine the effects of these sleep patterns on total sleep time, performance, subjective state (sleepiness, mood and effort) and biomedical parameters associated with long-term health," says FMCSA's research brief.
The study was conducted between Jan. 10, 2010 and May 5, 2011 and tried to simulate a 5-day workweek in which participants slept either a consolidated period between 10 p.m. and 8 a.m., consolidated period between 10 a.m. and 8 p.m. or two five-hour increments — one from 3 a.m. to 8 a.m. and one from 3 p.m. to 8 p.m.
Participants who slept at night got more overall sleep time (8.4 hours on average), followed by participants who slept the split sleep schedule (7.2 hours). Those who slept during the day got only 6.4 hours of sleep on average.
Click here to see the full results of the study.