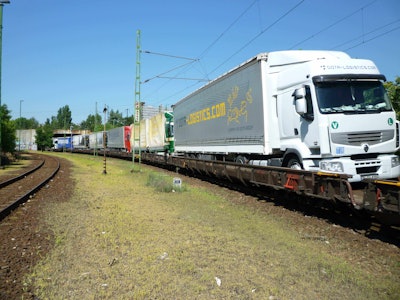 Ever taken a 10-hour break on a train? Though I'm almost 100 percent certain at least one of you can answer that question in the affirmative, the Missouri Truck Ferry initiative, being spearheaded by Jeff Schwartz of Metropolitan Community College in Kansas City, Mo., would make such a thing possible in a most likely different sort of way. The idea is one that's been "alive and well" in Europe for 20 years (see above image), Schwartz says. "They use it to get trucks off the mountain passes in the Alps."
In the United States, he sees a lot of potential for it to be part of a solution to the interconnected trucking problems associated with parking, the hours of service, angst over inspections, carriers' difficulty retaining/need to recruit drivers and more.
In essence, the idea is for a driver up against the edge of his 14-hour clock or 11 hours of drive time — and, in this case, heading eastbound along I-70 at Kansas City or westbound at St. Louis — to drive his own truck onto a railroad flatcar and shut down, retiring to a crew car up ahead for needed, federally mandated rest, for the trip across Missouri.
"It's more than just a George Jetson kind of space-age thing," he says. Schwartz is in various levels of discussion with existing railroads to provide the service along the I-70 corridor between the major cities at either end of Missouri.
In June, he adds, his truck-ferry project was submitted as a pilot project to Missouri's I-70 Road to Tommorrow corridor improvement effort. "I've been working with the state directly on that. I've got the equipment designed" — basically a string of flatcars with "bridge plates connecting them," he says, plus a lightweight ramp "at the back of the train. Trucks, then, "drive themselves" onto the railcar.
"Just as in a ferry going across a body of water," Schwartz says.
He's "probably nine months from a green light" from the state and rail, Schwartz says, "securing funding and having all the right people on board."
For owner-operators who found themselves in the right place and going the right direction, such a service might be worth the money spent if it "keeps them moving" when they otherwise wouldn't be.
"The 250-mile run across Missouri on I-70 takes about five hours, if we assume 50 mph," says Schwartz, which would be "many times during the day a liberal assumption. If you can drive in 5, why would we take the train in 10? Really, it's a comparison with 10 hours on the train" and 10 hours sitting still.
A trip across the state on a train, by such calculations, could be worth whatever five extra hours of drive time is worth in revenue, minus associated fees — and those Missouri inspectors and their penchant for hours, brake and tire violations.
Regulators have noted the program would satisfy hours regulations, "if you do what you're telling us you're doing," he paraphrases. "There's nothing in it that runs contrary to any regulation – but it runs counter to how we think about the modes of transportation. Mine is a trucking program, that utilizes rail."
Other groups — on I-81 in Virginia, and on I-80 in Nevada — are in concept stages, Schwartz says, with some similar projects that require considerable new investment in infrastructure. His project is simpler, he says, but "my challenge, quite honestly, is finding people who can grasp it."
What do you think? As long as the logistics of it worked out perfectly — a stretch in many cases, likely, particularly before frequency of trips is established — would you get in bed with the railroad?