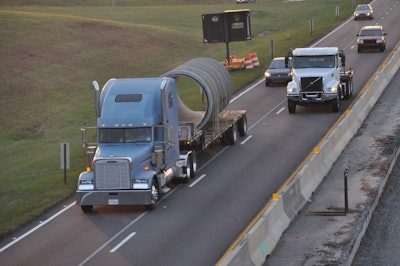 It's neat how the legislative mash-up happens, isn't it? Competing interests work legislators and constituencies around the nation for their favored little changes to law all across the spectrum, legislators and their staffs look for common ground and, sometimes, in the translation to legal language that reflects reality on the ground, things go horribly awry.
Yes, that little "poison pill" I wrote about that was in the early version of the House of Representatives' six-year highway bill remains — partly for procedural reasons, says the Transportation Intermediaries Association, the primary non-governmental supporter of a version of the measure for going on more than a year. Here's a recap of what I'm talking about:
Essentially, the highway bill would pull carriers' CSA Safety Measurement scores from public view, which a wide swathe of the trucking industry has called for with steadily increasing volume for the past couple years. An "interim hiring standard," then, would clarify just what sorts of carrier information shippers and brokers (and other freight middlemen) would be required to vet in order to avoid the growing specter of "negligent selection" lawsuits based on CSA percentile scores that have cropped up as lawyers chase damages after accidents. Essentially, brokers see such a clarification necessary given flawed CSA SMS scores slowly becoming something of a standard for carrier safety vetting in and of themselves — and wrongly, many argue, agreeing with the carrier community.
Problem is, the "Interim Hiring Standard" in the highway bill doesn't just require what the originally proposed "National Hiring Standard" would have required of carrier-contracting entities relative to safety rating. In the course of drafting the legislative language, someone who obviously didn't understand trucking apparently took a double negative to mean a positive. A requirement for shippers and brokers to make certain that a carrier …
has not been given an "unsatisfactory" safety rating in the safety rating system
became
has been given a "satisfactory" safety rating in the safety rating system.
That's my paraphrase of the language, fyi, but in any case a double negative here definitely does not make a positive, if you're a small-business trucker. Such language, it's worried, would notably exclude, and could well discourage brokers and shippers from doing business with, the universe of carriers (a huge number of whom are owner-operators) that are totally "unrated" under the current system. According to RigDig Business Intelligence's data on active for-hire authorized carriers, that would affect well more than a million for-hire trucks and drivers of the smallest fleets around. Here are the raw numbers.
RigDig Business Intelligence adjusted active for-hire carriers, by Safety Rating
| | | | |
| --- | --- | --- | --- |
| Safety Rating | # of Carriers | # of Power Units | # of Drivers |
| Satisfactory | 35,940 | 1,494,021 | 1,598,373 |
| Conditional | 10,050 | 131,018 | 114,046 |
| Unrated | 428,108 | 1,390,693 | 1,449,523 |
I've heard from several sources that the fix to this is coming, most likely in the conference committee that will be convened to reconcile Senate and House versions of the highway bill (nothing, mind you, like this appears in the Senate version).
TIA itself sent out an update to its members last week that said as much, but referred to an amendment that would have elaborated on the hiring standard to include Unrated carriers but, crucially, not the RigDig BI-adjusted 10,050 active Conditional-rated carriers and the 100,000-plus power units they control, as I wrote previously at the following link:
The worry over all of this is its potential to create problems that didn't exist, of course, and unduly discouraging parties to do business with carriers previously deemed safe, CSA scores notwithstanding. Some sources close to these discussions have noted to me off the record that they wish the "hiring standards" language would simply disappear altogether. With CSA percentile scores in the background, perhaps emphasis on such scores in frivolous lawsuits (what the hiring standard purports to be mitigating) would similarly take a backseat as a matter of course, hiring standard or not.
At once, however, given lawyers at this point well know the CSA SMS exists, without some explicit clarification of carrier-selection standards the consideration of CSA percentile scores as a marker of safety might well be likely to continue — carrier disclosure of private scores could easily become the norm in the carrier-shipper/broker contracts.
In its alert to members last week, TIA called the remaining language in the House highway bill "a step in the right direction" for TIA, ensuring the "National Hiring Standard remains viable during conference" between Senate and House. The association continues to expect a long-term bill to emerge before the Nov. 20 deadline.
If you're an Unrated or Conditional-rated carrier, here's hoping for reversion to the original language of the hiring standard, whose only safety rating/scoring-related standard was for brokers and shippers to vet carriers to make sure they did not have the Unsatisfactory safety rating. One commenter on my previous story about the exclusion of Conditional carriers from the TIA-preferred fix (the Duncan amendment) illustrated the situation today of such carriers today well.
Read more about it in depth in my reporting from 2014 here:
The carrier's been saddled with a Conditional rating since September 2013 and has "now hired a consultant (politically correct word for lawyer) to finish this process. The FMCSA is now saying there are 40 companies in front of us [for follow-up review]. It has cost our company $250,000 between lost revenue and increased insurance costs due to having a Conditional rating."
After going totally electronic for logs in an attempt to get back to a Satisfactory safety rating, the carrier got continued insistence from FMCSA that "our fuel receipts did not match our logs, so they claimed we were falsifying our logs," the commenter noted, who went to describe even getting an official letter from the fuel-card provider "claiming they would not guarantee the [time] data was correct on their reports. During the FMCSA investigation we spoke to Sky City in New Mexico, where half of the claimed false logs were produced. We found out that they process all the fuel transactions at the end of each shift, which means the report from TCH would not match the logs. We gave the info to the FMCSA inspectors and they dismissed the info. Now that we are required to run e-logs … the GPS on the truck shows the stop for fuel and the report reflects the same falsifying information. So my question is who is keeping these people (whose salaries our tax dollars pay) in check?"
Reader Richard Spencer, too, noted a similar situation: "My company has been in Conditional rating since October of 2012 and it is all political b/s. Just another tactic to run the independent out of the industry. Conditional rating is the industry's problem, placing unnecessary hardship on struggling individuals for circumstances that are out of their control. There is absolutely no reason to be placing companies into purgatory and giving them no choice but to run any way they can to make ends meet."
As it's now written, the preferred fix to the flawed "Interim Hiring Standard," as represented by the Duncan amendment, would only reinforce those do-or-die issues for Conditional carriers, driving more business away and making that safety rating purgatory something closer to the Unsatisfactory hell.