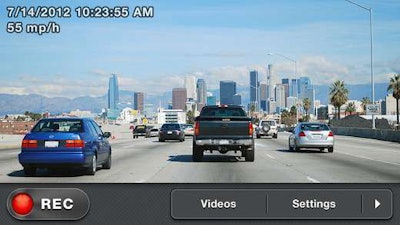 The above image is a screenshot from the iOS version of the Car Camera app, available via the iTunes app store for $3.99. Other options among apps built to turn your smartphone, with available windshield- or dash-mounting hardware, into a road camera exist for both iPhone and Android phones.
The convenience of a dedicated dashcam device, given how integral smartphones have become to many drivers' day-to-day operations, may outweigh any monetary savings that use of a smartphone app like this may deliver — dedicated devices I've seen in some cases under $100 of late. Nonetheless, streamlining devices into a single package with software could well be appealing to some (but don't tell that to Wendy Parker), particularly if the app can integrate with basic GPS/map functionality.
At once, I was curious to hear from anyone who may have tried any such apps or who uses one today on a regular basis. What's to consider outside of the obvious considerations of just how functional the app itself is and its ease (or lack thereof) of navigation?
This article on the Gizmodo website details several such apps that have been developed over several years for both iOS and Android platforms, with some key considerations for mounting and power, given the loads put on the battery by recording in a constant loop:
For mounting hardware, consider something that is wired to a power supply and powers the phone, too.
In the absence of that, keep a cable running to the phone to ensure a stable power supply.
Smartphone connectivity with such apps could in future enable user-to-user sharing of video feeds, as envisioned by DailyRoads Voyager, useful for live traffic updates by location and the like.
In any case, for those of you with experience with any such app's version today, what's been your experience so far?