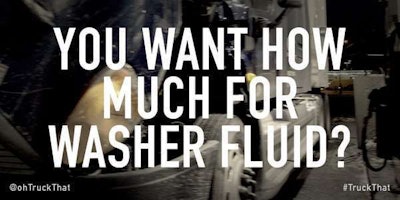 The video above is a distillation of an ongoing social media experiment of sorts that you may have noticed these past months. Organized around the hashtag #TruckThat, there's an associated Twitter feed, Facebook page and Instagram profile all dedicated to, well, engaging drivers in something anybody who's been in the industry well knows is a common pastime given all that goes on out on the road.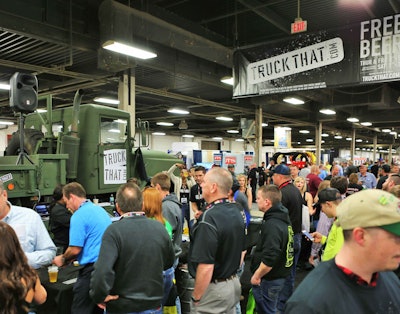 It might even hold some kind of a world record for the first and only social media campaign to hold a booth at the Mid-America Trucking Show, which it did a couple weeks back, as the picture shows — quite an active one given the beer garden, too, as it were.
Via TruckThat.com and the aforementioned social networks, drivers are encouraged to use the hashtag in posts sharing examples of, to quote the intro text on the site:
[gtblockquote background="#e8e8e8″]"What makes life harder? What isn't fair?What's frustrating? What needs to change? What just flat out sucks?
#TruckThat is the brainchild in part of two folks — Christian Schenk and Ryan Barnett, both formerly of the XRS electronic logging platform — I had a chance to talk to a little about it all this last week.
The intention of #TruckThat is simple on its face, Schenk says: "Giving drivers a voice – there's not a goal to shame the industry, but to create transparency. Not to produce challenges" to industry participants from truck stops to shippers not doing the job right, "but transparency. We're going to allow the drivers to be their merchandisers," of a fashion, Schenk adds, "to create some accountability."
A few examples from the #TruckThat Twitter and Instagram feeds, with at least one quite familiar example.
If four-wheelers did have a number to call about their crap driving we'd be on the phone all damn day. #TruckThat! pic.twitter.com/Jkbw1vnO5M

— TruckThat (@ohTruckThat) April 15, 2016
#truckthat – grow the truck up. Ugh! This stuff makes me so mad. https://t.co/TCb8Qq33dr

— Allie Knight (@gluttnous) April 12, 2016
Paying for parking always makes us mad. Always. But is there ever a time when it's worth it? We're not sure either. https://t.co/ts5VywaPEp

— TruckThat (@ohTruckThat) April 14, 2016
But it's not all a bitchfest, by any means, and as time goes by, say Schenck and Barnett, as intimated in the prior quote, the goal is much broader than just social media hi-jinks. A variation on a business-to-business buying group is close to launching that will, this June, offer driver members deep discounts in the manner of say a sort of "Groupon for truckers" but on "bedrock things," Schenk says — "showers, dinner, parking, tires," and the like.
The name of that group, and the associated Android/iOS mobile app launching this summer, is One20. Among developers of telematics systems and mobile apps geared to the trucking world, "there's an exorbitant amount of focus on fleets" in the areas of capacity and the like, Schenk says, referencing the myriad of so-called "Uber for trucking" mobile freight platforms rising.
For drivers, too, there's "a lot of focus on on-duty hours, whether from telematics providers or fuel-optimization," he adds. But nobody "is helping these guys optimize while they're not working – those 13 hours of off-duty are … where the industry from our standpoint takes advantage of the driver."
One20, he hopes, will deliver "savings on the things they already buy" by harnessing the buying power of the group and the information-delivery power of drivers' smartphones. The mobile app is something of a "navigation platform," he says, "on Android and iOS that predicts where off-duty events will occur, and based on that we produce offers for specific deals to them with our partners, which are all the major travel centers. … We make a little bit here and there off of those transactions."
Network intelligence will follow — "we'll have the community telling us about parking availability," for instance, he says, and "in fourth quarter we're releasing a wireless offering in partnership with Verizon and Samsung."
It'll all be very visible, he says, starting in June. For now, keep an eye on One20.com.