Another one here to file under the "Uberization of trucking" I seem to keep returning to since the April cover story on the subject. The folks from the Dispatcher app have been in touch recently with news that, since a soft launch of the service two years ago, the former Stanford students who started the project feel like they have the support team in place to really move into the world of independent trucking in a big way, providing what company head A.J. Balance calls "a booking platform for drivers" to freight available "sometimes from shippers, sometimes from brokers."
Since its soft launch, word has spread organically as operators have recommended the app to others to the point that a few thousand now use it regularly, says Balance. "The way we've developed the service is we built it and started testing it with drivers. Right now we're about to do a new release on our mobile app with some new features [based on user feedback], and we're testing those with drivers. We really try to listen rather than spread the word around as fast as we can."
The app, as with some other on-demand-matching-type services aimed at the long-haul market, is geared to take away some of the time burden from operators searching for, negotiating and booking loads, then collecting payment.
There's a difference in Dispatcher's approach, however, in that refined user preferences and historical activity guide a lot of the loads that operators see upon opening the app. "First thing is we set up the drivers from day one with a custom setup," Balance says. "We give them a welcome phone call and enter their preferences. A lot of folks claim to do that, but [with Dispatcher it's] more than truck type and other equipment – we know what lanes they like, what price ranges, what weight and types of commodities. We treat them uniquely." Preferences can be changed within the app or by messaging/calling the customer support team.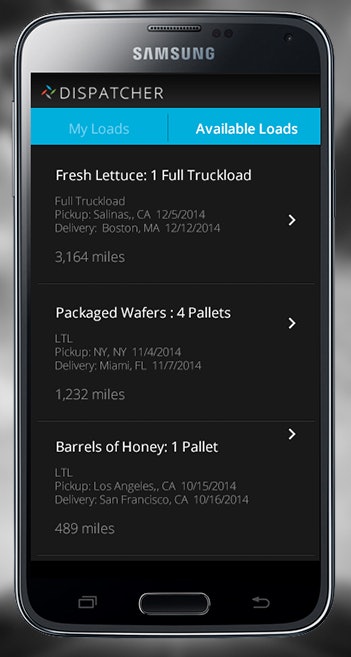 To see load offers suitable to their current location, "drivers don't really have to do too much," he adds. "They open up the app to see what's available – we give them the top option to match what they want – and click a button if they want it."
If drivers aren't actively engaging the app, they can receive emailed updates with available loads based on where they last were.
Planning out days in advance is easy within the app as well, which is some ways resembles a load board with refined search capabilities, says Los Angeles-area-based local-run operator Jimmy Nevarez, part of Freightliner's Team Run Smart program. "You can search by date, price value – it will return the results for any day you're searching. It works well for piecing together loads."
Nevarez has been using the app frequently since April of this year, after having downloaded it prior to getting his motor carrier authority earlier in the year. In the beginning, he says, Dispatcher was working out the kinks, but today, with updates, it's to the point that "I book relatively 25 percent" of 12-15 local/regional loads a week "through the Dispatcher app," he says. "I've been knocking out loads with them left and right."
For those of you who worry that more automation of the load transaction takes away the independent's ability to negotiate, Nevarez emphasizes he's right there with you. "I'm probably not the easiest person to work with because I'm a negotiator," he says. "I don't believe brokers when they say 'This is the best price I can do' on a load."
He's had several instances working a brokered load through Dispatcher where he's successfully negotiated the rate higher, he says, the Dispatcher customer service team doing the broker negotiation on his behalf. "The only time I'll hear directly from the broker is when they want specific driver information. Usually, that's not the case. Once Dispatcher uploads the rate confirmation and tags the load to your truck, they notify the broker electronically. Once you arrive at a destination," proof of delivery happens similarly. "They've got it worked out pretty well now. It's rare that I talk to a broker."
The company is different in another way from many of the companies being touted as the latest "Uber for trucking," notes Balance. It's not a broker. Rather, it's more akin to an independent dispatcher, acting as a kind of concierge service for truckers. "We want to be full-service. On any given day, we have about 15-20 people on staff at any time. All through the night and day. [If a driver's call is missed,] the mission is to get back to people within a minute or two."
For the basic booking service, Dispatcher takes a 4 percent cut of the load total, an extra 3 percent to include a Quick Pay option. Details are spelled out at the company website. "It's a little pricey," says Nevarez, but "with local stuff, I'm doing 2-3 loads a day. To take the time to fill out the carrier setup package" and other details with three different brokers or shippers a day takes more time than he's got. Dispatcher "does all the set-up and the paperwork – 7 percent is a small price to pay for taking the headache out of your daily life."
Long-haul owner-operators will find good utility from the service as well, Nevarez imagines, given planning possibilities. The app also allows for visibility into the business for marketing purposes, with custom business profiles, feedback ratings and the like.
Dispatcher is working on new updates to the app with new ways to browse loads with a map view of the hot areas according to available per-mile rates, geared toward those operating on longer hauls. A slider on the navigation screen will allow you to adjust rates, to "give you a sense of the market, where a large number of loads are above $2.50 or $3," Balance offers as an example.
Stay tuned …