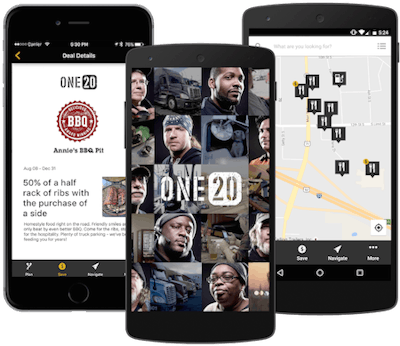 A band of trucking industry vets from major trucking tech players launched Aug. 24 a new company, One20, which aims to provide truck operators discounts on products at truck stops, offer truck-specific navigation, aid in finding truck parking and more. One20 was unveiled in Dallas at the Great American Trucking Show. The company also announced at the show it has developed a trucker-focused tablet, a specially branded Samsung Tab E that will be available later this year.
One20 bills itself as a "membership" more than a single product, it says, as those who use the free service have access to the company's website, app and 24/7 call-in center.
"Until now, technology has been part of the problem, not the solution, because mobile devices and apps have all been developed with the fleet or general consumer, rather than the driver, in mind," said Christian Schenk, founder, president and CEO of ONE20. "Our industry partners, ranging from mobile technology providers to truck stop operators, have announced their commitment to the trucking industry and the professional trucker by helping us deliver unmatched service with a ONE20 app and tablet, built specifically for drivers."
One20 has partnered with major truck stop chains to give users exclusive discounts on a wide-range of products at truck stops — "the products they buy most," says Schenk. Discounts must be 30 percent off or greater to qualify for One20's deals.
Truckers can access truck stop-specific discounts via the One20 app. They can also find star-based ratings for truck stops, restaurants and more provided by other truckers and issue ratings themselves. If a truck stop receives several low ratings, One20's call center will call the truck stop and ask them to address the issues causing the negative reviews, such as dirty bathrooms.
Other tools in the app and on the website include truck-specific navigation and route planning tools, both of which tie into One20's member discounts and truck stop ratings by allowing users to see the most highly rated truck stops and find discounted products along their route.
The company also announced it has partnered with Samsung and AT&T to build a One20-branded tablet. The 8-inch Samsung Tab E comes pre-loaded with trucker-specific apps and is bundled with a truck-safe dash mount, a dash-port charger, extra cables and more. Truckers can opt for an AT&T-provided 10-gigabyte data plan with the tablet, too. The tablet will retail for $399.99. The monthly data package costs $79.99 a month. The tablet launches in October and will be available in more than 1,500 truck stops by the end of the year, One20 says. It will also be available on Amazon.
**
One20's other channels include One20 Strong, One20 Foundation and Truck-That.com.
One20 Strong gives truckers . The company also plans to work with truck stops to develop healthier menu items, company reps said.
One20 Foundation is set up as a non-profit charity that will raise funds to help truck drivers in tough situations.
Truck That, launched in March, gives truck operators a forum to gripe about industry issues and problems drivers face on the road, which One20 says it plans to use as a means to "effect change" within the industry, says Schenk, such as developing partnerships to build new truck parking facilities or reaching out to shippers about detention time.
One20 will also have visible retail displays in major truck stop chains nationwide, it says, to sell One20 gear and the One20-branded tablet.
The company says it will also develop an electronic logging device app and associated tablet ahead of next year's mandate.
Click here to download the One20 app on Android's Google Play store and here to download the iPhone app.