For the previous installment in this weekly series, follow this link. Penned by company driver/longtime former owner-operator Wes Memphis, it follows his agreement with his employing fleet to be one of the first in the company's electronic logging device transition. Known for embellishment, coffee-shop philosophizing and more, Memphis is based in the Midwest: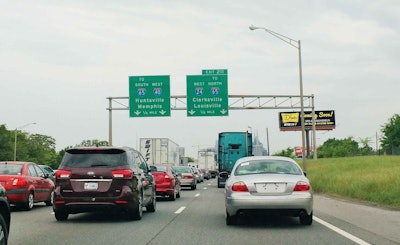 So I kicked off the load to Plainfield and headed back to the yard. It was the first time since week one out of driving school back in the 80s that I had ever told anyone I was out of hours and couldn't haul a load.
January 7, 1987, made Chicago history with wind chills in excess of 80 below. Shortly after delivering my very first load to Itasca, Ill., the ancient truck I was driving jelled up. After spending the night in the bathroom of a gas station next to a space heater, the tow truck they had sent me out of Gas City finally arrived, and promptly jelled up itself. Some 22 hours later, the biggest wrecker I'd ever seen arrived, tasked now with rescuing the first outfit they sent, and recovering the archaic, ragged out, tobacco-cured White Freightliner I was driving. It was no easy job; but it was clear the driver was a pro, eventually pulling the rear axles of the trailer tandems I was pulling so he could hook the entire rig and we could get back home.
The book had said that time spent in a breakdown situation was considered on duty not driving, so when dispatch called the next morning, asking if I was thawed out enough yet to go back to work, I informed them I couldn't quite yet because I was out of hours. A few minutes later the safety man called and let me know I wasn't required to log it that way and he could show me how to change it. They had a load going to Elkhart that really had to go. Stubborn rookie that I was, I informed him that I'd been told at the Mid America Truck Driving Academy that it had to be logged on the bottom line and I wouldn't be available until the following day.
The following week my first check as an over-the-road trucker was $118, about half of what I had been making as a local route driver. It was clear that I had become an object of ridicule around the terminal. I would leave that job two weeks later.
When I finally found another trucking company that would have me, it was with an outfit out of South Carolina. This time they gave me a trainer — some ol' boy who went by Flat Top on the CB. He was the vilest, most lecherous, most profane human being I had ever met. We hit it off instantly.
Within a few weeks, I was trailer truckin'. There was nothing them cocaine cowboys out there were doing that I couldn't do on Lucky Strikes, Extra Strength Excedrin, coffee and Mountain Dew. Soon, I was pulling a reefer, hauling strawberries out of Oxnard turning that second morning farmers' market freight to points East — so far East my editor won't allow it in print.
In short, I was somebody — or at least I thought so at the time. If there was a hard load that needed special attention, I was the go-to guy. I stayed in trouble with safety, but drank with dispatch, because that's just what you did when your name was Wes Effingham Memphis.
But today I was pulling into the yard with some trepidation. I had gone from Sonny Pruitt to just another downtrodden drone on the digital grid. I was no longer the one they picked first, no longer the one who swooped in and saved the day. I felt an inexplicable urge to begin wearing flip-flops and sweats, waiving the white flag in the face of my own self loathing.
I walked into the break room, found the cubby hole bearing the name Wes, put my envelope in and began to quietly leave the building.
The nice young man administering the pilot program for e-logs met me just as I had almost cleared the shop. "Wes, have you got a couple minutes? We got another guy going on e-logs that we're meeting with here in a couple minutes. Would you mind sitting in? We'd sure appreciate your input."