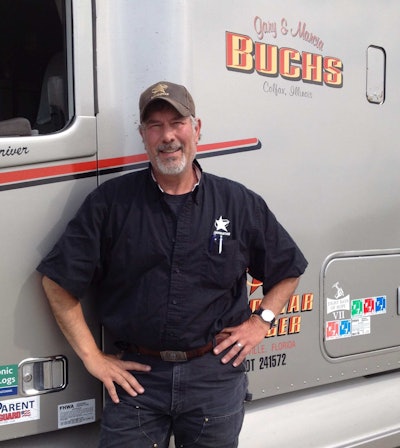 Illinois-based longtime owner-operator Gary Buchs, leased to Landstar, has been utilizing an electronic logging device for some time now, as regular readers likely recall. (Following his uptake of the Omnitracs system in his 2000 Freightliner Century, I wrote about Buchs' opting in to — and then out of — hard-brake monitoring after he concluded it was more of a safety deterrent than it helped anything, fyi.)
After some time on ELDs, Buchs doesn't exactly sing the praises of the devices, but he does maintain that utilizing ELDs for hours of service recording has allowed him a measure of security in knowing beyond much shadow of a doubt he's legal on hours, freeing him in some ways to better dispatch himself and focus on profitable loads and operation generally.
"The ELD frees you up to focus on other things," says Buchs, if it doesn't really give you back much time directly in terms of the amount of time spent interacting with it versus pushing a pencil over the pages of a paper logbook. "It frees up to you to choose what you focus on" in that it "takes over what is a mundane task," largely.
He's not alone in his thinking among Overdrive readers with some experience utilizing electronic logs to date.
Results of a reader survey conducted in May showed that, among those running electronic logs today, 43 percent of e-log users agreed with Buchs' sentiment. An nearly equal number, however, saw no benefit whatsoever, viewing e-logs as just a computerized form of the standard paper logbook.
At once, the mundane task of hours recording is an important one, particularly given it's a perennial area of focus for inspectors the nation over. This past year, however, saw total hours violations fall during the first full year back under the pre-2013 restart regulations. Other violation categories saw the totals fall last year, too, however, as fewer inspections and violations all around the nation were the norm. The share of total violations for hours of service nationally, however, barely budged from its 2014 high of 10 percent.
As for ELDs, Buchs makes the analogy between driving a manual versus an automated transmission, the latter of which he spent driving for about a year. "I have a 10-speed manual now," he says. "You don't believe you're thinking about shifting because you've been doing it so long. But when you stop doing it, you realize how much it frees you up to focus on other things. In the city going around corners or turns, where I didn't have to shift I could focus more closely on that task of maneuvering. It's a subtle thing that maybe a lot of people don't realize."
There's something to the gray area inherent in a paper log, he says, that is almost a psychological phenomenon, for him — the worry about hours, about being inspected and an officer finding a violation. Also, "on a paper log, you're always looking backward," always "catching up your log book" and reviewing stops and on- and off-duty time to make certain it all adds up under your cumulative on-duty limitations. "You're always looking behind you. On an ELD, you're not looking backward anymore, you're looking forward – as with driving, what do you want to do? Look in the rear-view or look out the windshield?"
"The security of knowing I'm legal," he goes on, after the adjustment period, paid dividends. "Most every operator I talk to says 'I sleep better, I feel better, I'm more secure'" after e-logs, Buchs says. "Now they stop before they run out of time, and they feel better. After that adjustment period, and there will be one, for everybody, it becomes obvious that nobody's watching us, there's no secret. Nobody's watching it in real time, they only look at it afterward."
Buchs has been running e-logs with Landstar three-four years. "Every 150-200 days" he encounters a situation where "I could just use another 30 minutes. But it's really not that often. You just accept it. I'll reschedule or whatever the situation is. I'll just deal with it."