Singer-songwriter Jayne Denham has made quite an impression on the Australian public over the last decade. Her brand of rocking country will no doubt be familiar-sounding to U.S. ears, but what's truly exceptional is just how high-profile her work has become down under, given much of its subject matter has to do directly with the stories of truckers and the trucking industry there.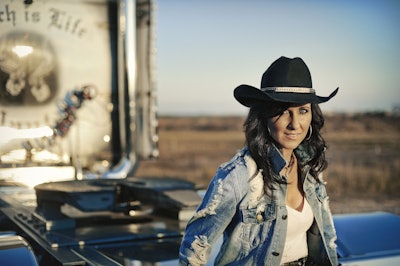 Denham will be performing at the Red Eye Radio booth at the Great American Trucking Show Friday, Aug. 26, in what will be her U.S. debut. If you're going to be at the show, don't miss it. I'd be willing to wager it'll be one heck of a performance.
While she's been to the United States before to collaborate with a variety of songwriters, this will be her first official show, for a community she hopes will welcome her as one of its own. "I'm really looking forward to it," she says. "In Australia, I've sung at every trucking event there is here. I've gotten to understand the industry here."
With any luck, she says, she'll be able to do the same in the United States.
While Denham's never worked as a driver, when she was a girl her family's business included ownership of several on-highway trucks. As the song in the video above goes, Denham "grew up around trucks."
When her first record was being put together a decade ago, she says, she found some of her best material "writing songs about other people," she says. "Growing up, I was always out in trucks and going on the road with my family. I heard about this girl that drove a truck" who cut quite a figure among other, mostly male drivers.
"She looked a bit like Sandra Bullock," Denham says. "I wrote this song called 'Cousin Jude.'"
She found Australians responded strongly to the story of the "girl that drives a truck," she says. "There were some other guys here writing about the trucking industry, and I just kept doing it."
It took off, Denham garnering sponsor-partners in, first, Wickham Freight Lines. "The next minute I'm on the side of one of their trailers. Next minute, with a new record, they offered to put the artwork from the album on another trailer."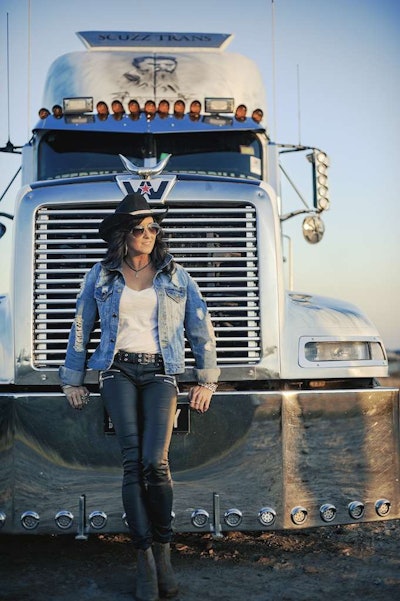 Things proceeded from there to the somewhat recent release of the follow-up to her well-received "Renegade" disc. On the tour supporting "Renegade II," a big attraction at shows was the Western Star pictured here, one of the "most awarded show trucks in Australia," she says. Owned by the Scuzz Trans fleet, which started with just a single truck years ago, its theme is the history of Ned Kelly — if you're not consummate with your Australian history (I'm not either, but the Internet is a fine help), think of Ned Kelly as the Australian Billy the Kid, the fabled late 19th-century upright outlaw. (Find further pictures of it on the Scuzz Trans site.)
"The fans love it," Denham says. "When we do a show we'll have a competition" of a variety of types. "At the end of the show, fans can win a ride in the Ned Kelly truck."
Unfortunately, it won't be able to make the flight to Dallas for GATS, but be sure to catch Denham's show Friday. It could be the start of more work in the U.S. for the singer.
"The last trip when I came over," earlier this year, "to write songs and see what the industry is like, it certainly far outweighed my expectations," she says. "I need to look at doing more. I definitely want to come back and do my next record [in the U.S.]. Our plan is to release a song and put the wheels in motion … within the next 12 months."