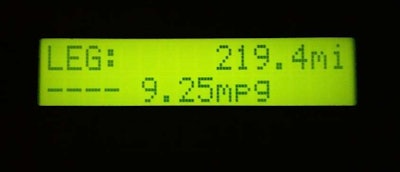 When the question comes around, inevitably, says Wisconsin-based owner-operator Jenson Lawrence, running independent and utilizing a dispatch service for freight, this image is one that exemplifies his typical answer: As he posted on his Facebook page recently, "Because I can get this kind of mileage with it if I drive carefully and pull lighter loads!"
Mind you, the particular load he was pulling with his 1996 Freightliner FLD was little more than 11,000 lbs. in his 2002 53-foot Great Dane dry box, and his 370-hp Cummins M-11's ECM typically reads out around 6.7 mpg for lifetime fuel mileage lately. But impressive nonetheless, and it all comes on the heels of an out-of-frame overhaul completed last year by his regular mechanic at the small family-run Larson Diesel Service in Oakdale, Minn.
That overhaul follows an in-frame performed "quite a while ago," Lawrence says. "The truck's now got over 2 million miles on it." He bought it around 7-8 years ago, he says, after driving for an owner-operator in the operator's second truck leased to a flatbed fleet.
Running leased with responsibility for his own truck, it didn't take long before he decided to seek out better profits independently. He's been running with his own authority now for around four years.
For now, though, Lawrence, a member of the 9+ MPG Club Facebook group I wrote about at this link, really attributes his impressive fuel-mileage to driving style more than anything. It's all about "finding that sweet spot" for the engine's rpms. For him, "the sweet spot's between 52 and 62 mph in top gear" with his Super 10 transmission. With lighter loads in particular, where climbing isn't as much of an issue, "I run a lot of U.S. highways and state highways away from the interstates," he says. "I set the cruise on 52-53" and go.
What's your best fuel-mileage weapon?